Volunteer gardening on traffic calming spaces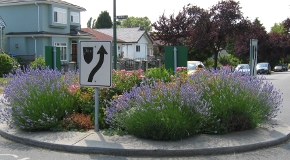 Green Streets gardens are planted on traffic circles and corner bulges.
The City pays for the initial planting. As a volunteer gardener, you will work with the City and your community to help the gardens grow during the year.
You can simply weed and water, or choose to add your own personal touch by adding your favourite plants, providing more colour and interest through the changing seasons.