Langara Gardens policy planning program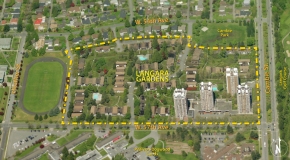 This comprehensive planning program will help the City create a policy statement to guide the future development of Langara Gardens. The planning program is being developed at the request of the Langara Gardens owners, Peterson and Concert Properties.
Langara Gardens is an 8.4-hectare (20.8-acre) site located west of Cambie Street between 57th Avenue and the lane south of 54th Avenue.
This planning program will ensure that existing rental units are protected or replaced, and potential new residential, retail, and community amenity uses are explored.
The planning process will include many opportunities for residents, community members, and stakeholders to offer feedback and ideas.
Related projects and initiatives