Conserve water - use a rain barrel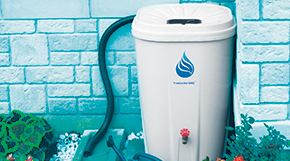 Make rain a resource! Rain water collection is a brilliant way to give your lawn and garden chlorine-free liquid sunshine. A rain barrel allows you to store rain, and use it as needed to take care of your lawn, helping keep a useful resource from running down the storm drain.
The City of Vancouver sells rain barrels for half the regular price. The City subsidizes the other half.
A rain barrel:
Measures 107 cm high x 54 cm wide.
Holds 341 L of water.
Weighs 20.5 kg when empty.
The City has also a limited time offer on short rain barrels for smaller yards.
How a rain barrel works
The City sells rain barrels made of recycled plastic. Barrels are designed with a flat side, so that the barrel will sit flush against a wall. Additional features are:
Overflow to storm drain
Childproof opening
Garden hose connection
Faucet (for filling watering cans)
Screen (to keep debris out)

 Important: Rainwater is not for human consumption. Collected rainwater is suitable for plants and grass only.