What not to pour down the drain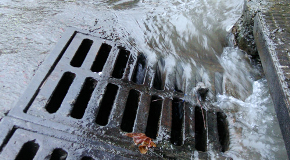 Whatever goes down the drain directly affects aquatic life, water quality, and the liveability of your neighbourhood. Help protect our waterways by properly disposing of household items.
Food scraps: compost them
When food enters the ocean it requires oxygen to decompose. The more food in the ocean, the less oxygen there is available for fish and other organisms.
Instead of using your in-sink garburator, recycle your kitchen scraps with your yard waste for pickup by the City, or purchase your own composter.
How to recycle your food scraps with your yard waste 
Cooking grease: put it in the garbage
Grease quickly turns solid within sewer pipes, and can cause blockages that lead to backups and sewer overflows.
Pour hot cooking grease into a tin can or drink carton to cool and solidify before disposing the grease into the garbage.
Medication: return it to the drug store
In many places around the world, trace levels of pharmaceuticals can be found in the water supply. Let's keep our water clean.
Return old or unwanted medication, including prescription drugs, over-the-counter non-prescription drugs, and herbal medications, to the pharmacy or retailer where you bought them.
Paint, oil, and other chemicals: find a take-back program
Search the Metro Vancouver Recycles website to find places to safely dispose of paint, oil, batteries, and other household chemical products.
Get recipes for non-toxic alternatives for cleaning products. A good resource is the Recycling Council of BC's Toxic Toolkit.