First Nations Homework Club at Lord Strathcona Elementary School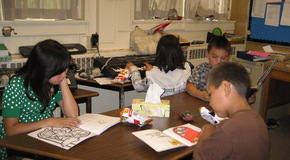 In 2008, the Strathcona First Nations Homework Club was launched to
Increase aboriginal students' sense of pride, self-esteem, belonging, place, acceptance and caring in their schools.
Ensure that aboriginal students achieve increased academic success inVancouver schools.
Ensure that aboriginal students participate fully and successfully from kindergarten through to the completion of Grade 12.
Increase acceptance, empathy, awareness and appreciation of aboriginal histories, traditions, cultures, and contributions by all students.
Not only are participants provided with an appropriate space to study and read, they are given the opportunity to take part in traditional First Nations ceremonial events, field trips and feasts.
Approximately 20 to 30 students take part in the Homework Club each day, and the program continues to operate successfully since the Great Beginnings Program invested in its initial seed funding.
Setting the Stage for Success
The program has set the stage for further success both for the Homework Club and its learners. It has:
Improved networking and information-sharing opportunities with other schools regarding best practices and the development of new strategies for teaching Aboriginal learners.
Improved attendance at school.
Improved performance in reading, writing and numeracy.
Increased participation in school leadership roles, for example, Peer Helpers.
Increased participation in Fine Arts and Athletic activities.