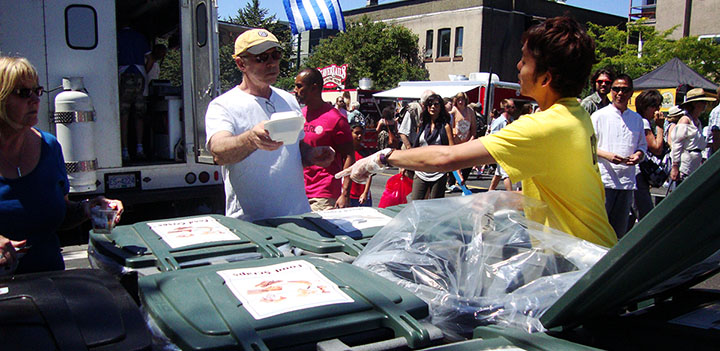 Greening your event
Services booked less than 2 weeks prior to event start may not be processed in time for delivery of equipment, service, or both.
Planning an outdoor event on Vancouver streets or in parks?
Our Green Events Planning Guide will help you plan your green event with tips, checklists, and information sheets for vendors, volunteers, and organizers. The guide provides information on local suppliers and service providers, as well as services and equipment that we can provide.
As part of your event application, you must fill in a green event form that explains how you plan to minimize your event's environmental impact.
The form will ask about your efforts to help achieve our goal of zero waste by 2040 through:
Reduction of waste including food and single-use products
Use of sustainable products
Ethical procurement of goods and services
Education of guests about environmental initiatives
To start the process, tell us how you will manage the environmental impact of your event.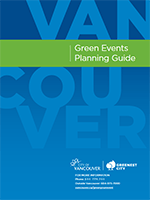 Green Event Planning Guide (1 MB)
Questions about greening your event?
If you are a local supplier or business looking to have your business added to our Green Event Planning Guide, email us.
Request City equipment or recycling and waste service
We can provide equipment such as water stations, bike racks, and recycling and waste totes for your event.
Our services include delivery, pick-up, and cost of waste disposal. Water stations and bike racks have limited availability.
No need for City equipment or services?
Hiring a business or managing your event's sustainability plan yourself? Tell us about your plan for a green event. Staff are available to help with your plan.

Event organizers are responsible for leaving the event area clean and litter-free. If waste is left in the area, the organizer will be charged for City clean-up services. Do not use existing waste and recycling bins on City or Parks property.