Used vehicles and equipment sales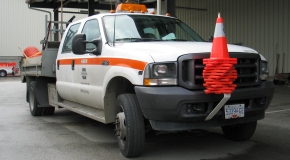 The City advertises surplus vehicles, equipment, and furniture on these classifieds and auction websites:
We also sell some items directly, depending on the item condition, estimated value, and potential market.

Note: Our items are sold "as is, where is" without warranty.
We accept credit, debit, or certified cheque and bank draft (payable to City of Vancouver). Cash is not accepted.
Tips for prospective buyers
Stay informed by reviewing classifieds and auction websites regularly. We do not keep a mailing list.
Confirm the legitimacy of the sale ad. Phone our Central Stores reception, at right. Watch out for online scams.
Inspect the sale item in person. Call to arrange a visit.
Arrange transportation of your item. We do not ship.
Interested in buying a surplus vehicle?
We recommend you arrange a BCAA inspection and personally view the vehicle because we cannot provide individual vehicle maintenance records or allow test drives.
Vehicles must be paid by certified cheque or bank draft (payable to City of Vancouver).
If you buy a vehicle, it must be registered in your name before we release it to you.