Effective Jan 1, 2022, there is a ban on plastic shopping bags and required fees on paper and reusable shopping bags. Businesses keep the fees from paper and reusable bags, revenue from bag fees is not remitted to the City.
This by-law is specific to shopping bags used by customers to transport items purchased or received from a business, customarily provided at the point of sale.
BC Centre for Disease Control guidelines vendors can provide and accept reusable shopping bags during the COVID-19 pandemic.
COVID-19: Under
Educational toolkits are available for businesses, charities, and not-for-profits to inform staff and customers of the by-law requirements.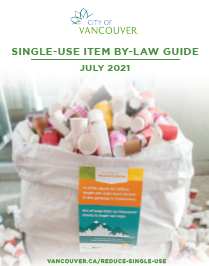 Bags for people in need
We're working with local non-profits and social enterprises to explore options to provide free reusable shopping bags to residents in need.