Shopping bags
Effective Jan 1, 2022, there is a ban on plastic shopping bags and minimum fees on paper and reusable shopping bags. Businesses keep the fees from paper and new reusable bags.
Under License By-Law No. 4450 (section 15.9), the minimum fees will increase to $0.25 for paper bags and $2 for new reusable bags, starting January 1, 2023.
This by-law is specific to shopping bags used by customers to transport items purchased or received from a business, customarily provided at the point of sale.
BC Centre for Disease Control guidelines vendors can provide and accept reusable shopping bags during the COVID-19 pandemic.
COVID-19: Under
Educational toolkits are available for businesses, charities, and not-for-profits to inform staff and customers of the by-law requirements.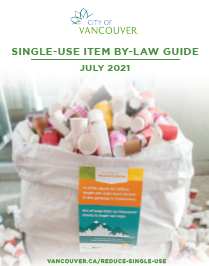 Bags for people in need
We're working with local non-profits and social enterprises to provide free reusable shopping bags to residents in need.