Cups
Educational toolkits are available for businesses, charities, and not-for-profits to inform staff and customers of the by-law requirements.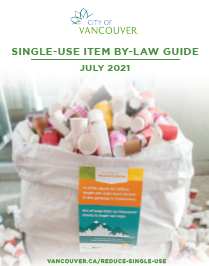 On March 28, 2023, Council enacted a by-law that repeals all single-use beverage cup requirements from License By-law No. 4450 (section 15.8) and (493 KB)Ticket Offences By-law No. 9360. (231 KB)
Effective May 1, 2023, businesses are no longer required to:
Charge a minimum $0.25 fee on single-use beverage cups
Report the number of single-use beverage cups when renewing their business licence
Accept customers' clean reusable cups for drinks ordered in-store
What this means for businesses
Food vendors are encouraged to remove the cup fee from their in-store, online, and mobile point of sale (POS) systems, menus and receipts starting May 1.
Businesses are required to charge the cup fee up to May 1, 2023.
We encourage businesses to continue adopting reusable options to reduce single-use cup waste, including:
Accepting reusable cups for all hot and cold drinks (in-store, mobile apps, and drive-thrus) and offering discounts to customers who bring in their own cup,
Serving drinks ordered to stay in reusable cups
Offering returnable cups that customers can borrow for drinks ordered to go