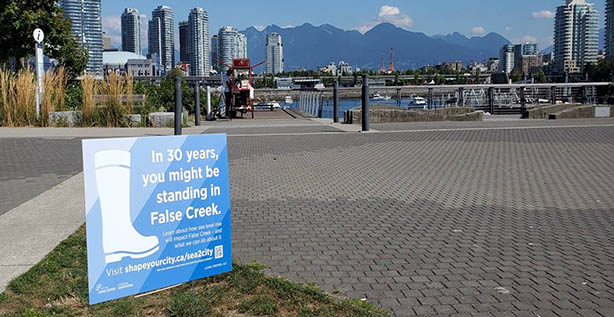 False Creek and sea level rise
What's at risk?
38,000+ residents and a range of housing
$19 billion in assessed property value within floodplain
200 industrial properties
Emergency and medical facilities
Schools and childcare facilities
Granville Island
Parks, recreation, and activity centres
Major utilities and infrastructure
False Creek is a bustling, urban, mixed-use waterfront area that is one of Vancouver's major destinations for residents and visitors alike.
Historically one of Vancouver's major industrial centres, the last few decades have seen False Creek transition into a social and recreational heart of Vancouver, featuring a variety of:
Higher density multi-family residences
Commercial areas
Parks that are used by many for recreational and marine activities
False Creek encompasses numerous, diverse neighbourhoods
False Creek:
North includes portions of Northeast False Creek, Yaletown, and Chinatown.
South passes through Fairview, South East False Creek, Olympic Village and False Creek Flats along the south shore.
False Creek North and South both include yet-to-be developed land.
Granville Island, a vulnerable flood area
Managed by the Canada Mortgage and Housing Corporation, Granville Island is one of the most flood-vulnerable areas in False Creek.
Its 300 plus businesses, including a public market and lively arts, culture, and culinary scene make it one of Vancouver's most popular destinations. It's also the site of a community centre, commercial and office spaces, float homes, and a marina.
Granville Island will not be a Challenge Site but is an important Challenge consideration.