How Water Remembers art project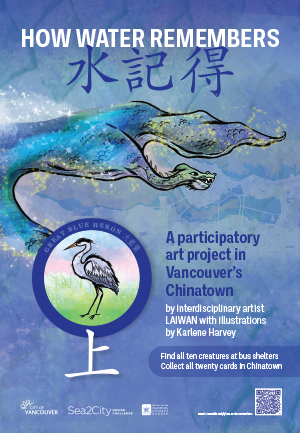 How Water Remembers 水記得:
Celebrates Chinese New Year
Inspires us about the False Creek ecosystem
Asks us to contemplate the impacts of sea level rise
Is a participatory art project by Laiwan that aims to build awareness and cultural value for humans and local biodiversity
Encourages a vision of a more livable city that enhances biodiversity and responds to sea level rise
Takes place throughout the city and in Vancouver's Chinatown and with support from the Dr. Sun Yat-Sen Classical Chinese Garden
Participate in How Water Remembers, February 14 to March 14, 2022
How to find the guardian creatures
Find all ten How Water Remembers guardian creatures and win a prize!
Ten guardian creatures that did live or could live in False Creek have been placed in ten bus shelters across the city for you to find and "collect".
The first five people to collect all ten win a set of guardian creature cards that were designed by Laiwan, with illustrations by Karlene Harvey, Marlene Yuen, and divination texts by Cindy Mochizuki.
Visit other parts of the city during your quest for the creatures.
Deadline: March 20, 2022
Collect cards by visiting participating Chinatown shopkeepers
Support Chinatown shopkeepers. You can make a number of visits to Chinatown to collect them.
Throughout 2022, guardian creature cards will be distributed through the 20 Chinatown shops until cards are all distributed.