Sea2City Design Challenge
About Vancouver
Embraced by water, including the Salish Sea to the west, Burrard Inlet to the north, and the north arm of the Fraser River to the south, we have always been a coastal community defined by our proximity to the ocean, river, and mountains.
Vancouver is situated on the unceded traditional homelands of xʷməθkʷəy̓əm (Musqueam), Skwxwú7mesh (Squamish), and səlilwətaɬ (Tsleil-Waututh). The area currently known as False Creek is of significant meaning to the local First Nations who stewarded the land since time immemorial.
We recognize the need to plan for future sea level rise and help flood-vulnerable shoreline neighbourhoods, communities, and businesses to become more resilient to current and future coastal flooding.
The Sea2City Design Challenge (Sea2City) was a collaborative design challenge to rethink the future of the False Creek shoreline. The project brought together two multi-disciplinary design teams, City staff, local coastal adaptation experts and Host Nation representatives, knowledge keepers, and designers from Musqueam, Squamish, and Tsleil-Waututh over a 12-month period to reimagine key sites along Vancouver's False Creek shoreline.
The teams showed how these sites can adapt to rising sea levels while accommodating urban development and fostering ecological revitalization. The work will also inform the next phase of our Climate Adaptation Plan and Coastal Adaptation Plan.
Guided by Host Nation values, community values, and design principles identified through earlier engagement, Sea2City provided a collective learning and capacity building opportunity for us, project partners, and design teams to:
Increase public awareness of sea level rise and coastal flooding and opportunities to address it
Explore and develop a coastal adaptation approach that centres reconciliation with Host Nations who have stewarded Vancouver's coastline since time immemorial
Investigate coastal adaptation approaches that respond to the social equity, economic, and ecological challenges posed by sea level rise and coastal flooding
Examine options for sea level rise of at least two metres
Outcomes
Sea2City was designed as a deeply collaborative initiative to demonstrate a more decolonized planning approach to the shoreline.
Outcomes from the Sea2City Design Challenge include:
Increased capacity and understanding about the people who work, live and play in False Creek, decolonizing coastal adaptation planning, and the impacts of coastal flooding
A range of exciting and pragmatic design concepts that respond to the challenges posed by sea level rise and coastal flooding
Decolonized language, coastal adaptation design principles, and design concepts that test 2 metres of sea level rise
Connecting with over 2,000 community members, advisory group members, collaborators, students and members of the public directly, and 160,000 people across social media platforms
Conceptual designs, created as part of Sea2City, will:
Not be built immediately
Inform next steps (including more detailed design development and planning)
We will start to take those next steps after the completion of Sea2City, and it will likely continue for several years recognizing the additional research, planning, technical design, and engagement that will be required.
Documents
Final reports
Supporting documents
Public events
We have completed public engagement for the Sea2City Design Challenge. Together, from June 2020 to July 2022, we hosted 19 events made up of:
8 online Community Conversations
3 public events
Many workshops
We co-hosted with the Host Nations 7 Decolonization and Indigenous Perspectives workshops and events. Project staff:
Collaborated with 2 graduate students and 4 university classes
Supported 4 unique artistic collaborations that explored sea level rise, culture, and storytelling
The Sea2City Design Challenge initiated:
14 youth (18-29 yrs old) as part of the Sea2City Youth Adaptation Lab
Hosted 5 student lectures
The project team was fortunate to collaborate with:
Over 10 local non-governmental organizations and recreational groups
4 resident associations
Granville Island CMHC
The False Creek Harbour Authority
The project was featured in over 25 local, provincial and national media outlets across print, radio, web and television platforms in 3 languages. Approximately 150,000 views of Sea2City media materials were recorded.
The project team is very grateful to all of the collaborators and people we met along the way.
Between bridges site in 2100
By City of Vancouver
Ideas to consider: Between bridges site in 2100 with a new form of seawall experience: floating walkways. The shoreline has been pulled back and restored. Shoreline buildings have been repurposed as public spaces.
Coopers Park site in 2100

By City of Vancouver

Ideas to consider: Coopers Park site in 2100 with a softer shoreline that supports sea life and provides a buffer against waves. Floating structures provide recreation opportunities and buildings are retrofitted to endure occasional flooding until they are retired at the end of their life cycle.

Olympic Village site in 2150

By City of Vancouver

Ideas to consider: Olympic Village site in 2150 with a series of islands and mudflats. People walk on an elevated walkway that is the new seawall. The Olympic Village has been transformed into park space as buildings have been moved to higher ground over time. A series of forested berm protect the area from major flooding.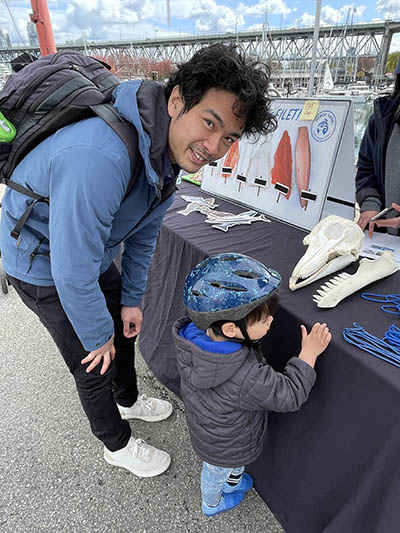 Learn more about sea level rise
Get more information on sea level rise in False Creek and what we have begun to prepare for it: Review Coastal Adaptation False Creek