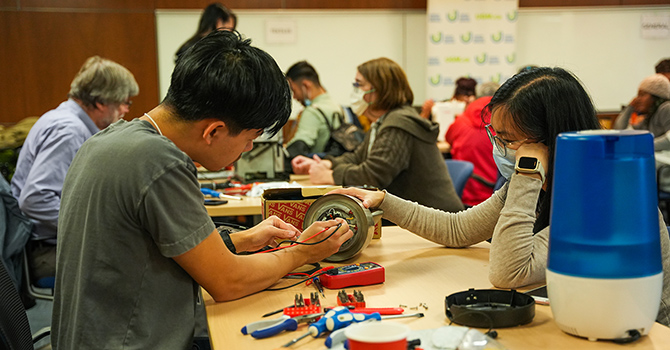 Share, reuse, and repair
Repair café volunteers needed
The Society Promoting Environmental Conservation (SPEC) is seeking repair café volunteers.
If you are passionate about waste reduction, helping the community, or repairing items, learn more and register to volunteer.
Extending the useful life of everyday products is a simple but essential aspect of a circular economy.
Sharing, reusing, and repairing helps:
Keep items out of the landfill and incinerator

Reduce carbon emissions

Support local businesses in Vancouver
Repair cafés
Participate in the next repair café event to receive repair assistance from volunteer fixers.
Zero waste fairs
Zero waste fairs promote waste reduction by providing participants with the opportunity to share, reuse, and repair their stuff, and showcase the work being done by local organizations moving us towards a zero-waste future.
Free swaps
Free swaps are a good way to find new homes for items we no longer want, thereby reducing waste going to the landfill.
Repair cafés are funded with assistance from Metro Vancouver.