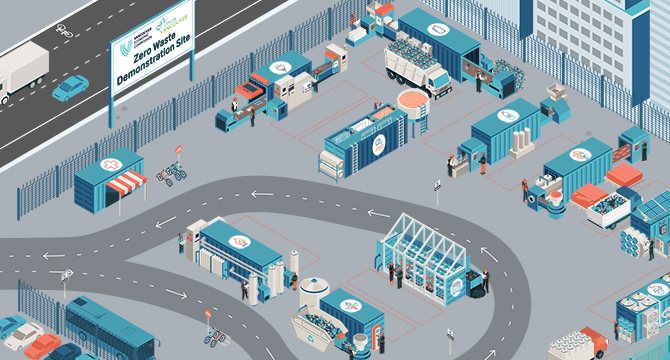 Image for illustrative purposes only
Zero Waste Demonstration Site
In support of our goal to become a zero waste community by 2040, we are collaborating with the Vancouver Economic Commission (VEC) to explore transforming our former recycling materials receiving yard, located at 1198 East Kent Avenue South, into a Zero Waste Demonstration Site.
Once realized, the Zero Waste Demonstration Site could serve as an industrial-sized incubator and demonstration space to:
Enable zero waste and clean technology companies to commercialize (for example, gain partners, investment, customers)
Reduce waste to landfill and incinerator
Increase green jobs
Establish technologies that could be scaled up for City operations
For more information, email: ZeroWasteInnovation@vancouver.ca
What's happening

Wanted: Innovators working on zero waste solutions and technologies

We're seeking diverse zero and low-waste solutions to address streams of solid waste. Waste streams must be compatible with the existing site layout and infrastructure, and could include:
Biodegradable waste (such as food, kitchen, garden, and agricultural)
Recyclables (such as plastics, metal, paper, and glass)
Electronic waste (such as batteries, lightbulbs, computers, and electronics)
Construction and demolition waste (such as painted and treated wood, plastics, concrete, and asphalt)
Composite waste (such as textiles, shoes, bagged pet waste, and furniture)
Residuals from industrial processes (such as biosolids, grit, and bottom ash)
Other waste
We welcome solutions that are low footprint with minimal infrastructure requirements (such as minimal power and self-supplied water). We will also consider passive (non-operating) displays that demonstrate innovative technologies, such as natural walls or improved concrete products.
Selected innovators will be invited to demonstrate and operate their proposed zero-waste technologies and solutions for a period of 18 to 24 months. If successful, the pilot could continue into the future and attract more opportunities for innovators, including partnerships, funding and other complementary benefits.
Key dates
The targeted market call opens November 23, 2022, and closes at 11:59pm on January 31, 2023.
There will be an online information session on January 10, 2023, from 9am to 10am.
Timeline
2016

VEC identified lack of industrial land to demonstrate technology

2017

COV divested its curbside recycling collection operation

2018

Council approved Zero Waste 2040 Strategic Plan, outlining support for waste technology research and incubation

2020

COV Engineering explored plan to develop former recycling receiving yard into a Zero Waste Demonstration Site

July to September 2021

Market sounding and analysis completed

November 2021

City Executive provided seed funding to pilot the concept

November 23, 2022

Targeted market call open

January 10, 2023

January 31, 2023

Targeted market call closes

March 2023

Shortlisted applicants interviewed and final selection of successful candidates

June 2023

Zero Waste Demonstration Site pilot project commissioned

July 2023 to July 2025

Pilot project in operation

August 2025

Assessment of pilot project, lessons learned, and determination of next steps