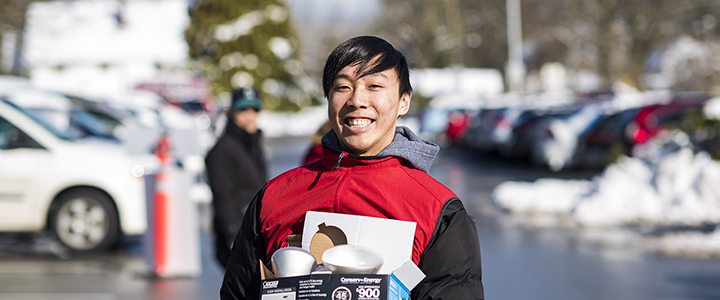 Zero Waste reuse and recycling drop-off events
Becoming a Zero Waste community means rethinking what we send to the landfill, and looking for alternative ways to reuse and recycle as much as possible.
Whether you've just cleaned out your closet or have a garage full of old, broken, or unwanted electronics, these items can likely be reused or recycled – instead of ending up in the landfill.
What's happening

Reusable shopping bag drop-off event

Between March 22 and April 18, residents can donate reusable shopping bags at the Zero Waste Centre as part of a City pilot program.

The pilot will explore options for collecting reusable shopping bags that can then be made available to residents in need as part of the Shopping Bag By-law Support Plan.
What's accepted for drop-off
The following items are accepted at each Zero Waste Reuse and Recycling Drop-off event.
For reuse

​ Accessories (scarves, hats, gloves)

​ Bags and purses

​ Bath towels

Bedding (sheets, pillow cases, blankets)

​ Books (soft and hardcover)

​ Clothing
​

​ Computers and monitors

​ Curtains

​ Fabric shower curtains
​

​ Kitchen tea towels

​ Shoes

​ Tablecloths and cloth napkins
For recycling

Clothing*

​ Electronics (TVs, CD and DVD players, VCRs)
​

​ Home theatre components

​ Household batteries

Light bulbs

​ Light fixtures

​ Phones

​ Pillows, cushions, and duvets
​

​ Portable audio and video equipment

​ Small household appliances

​ Smoke and CO alarms

​ Video game systems

Clothing and other textiles can be dropped off for both reuse and recycling as long as they are washed and dry. This includes items that can be worn again or are torn, ripped, full of holes, stained, worn-out or faded, missing buttons, with broken zippers, or singles of paired items. Depending on the type of item and its condition, it will be reused, repurposed, or recycled.
Clothing or textiles that are wet, mildewed, contaminated or infested with moths or bed bugs will not be accepted.
For a full list of accepted items, visit our event partners' websites:
Materials not accepted
The following items are currently not accepted at Zero Waste reuse and recycling drop-off events:

Bicycles

Car seats*

Carpet and rugs

Construction materials, such as drywall and wood

Furniture and large or bulky items

Hazardous waste

Lawnmowers

Mattresses and box springs

Paper and magazines

Pharmaceutical products

Planter pots

Plastic storage containers

Propane tanks
​

Sinks, toilets, and bathtubs

Soft plastics

Styrofoam

Suitcases

Tires

Toys

Used oil

Car seats are no longer accepted for recycling at the City's free reuse and recycling drop-off events. They can be recycled, for a fee, at the following events and locations:
Pacific Mobile Depots (PMD) – occurs monthly at Lord Byng Secondary School and at Britannia Community Centre. Learn more
Queensborough Landing Return-it Depot in New Westminster. Learn more
Car seats were accepted at the City's reuse and recycling drop-off events in 2018 as part of a trial period where the we collected data on car seat recycling.
A total of 540 car seats were recycled during the trial period. We will use all data collected during the trial to advocate for and support a car seat Extended Producer Responsibility program where manufacturers and retailers are responsible for the end of life management of car seats.
Looking to repair instead of recycle?
Before items are brought to a Zero Waste drop-off event, consider if they can be repaired or repurposed.
The following non-profit organizations provide options: