Blood Alley Square Redesign
We are redesigning Blood Alley Square in the heart of Gastown to:
Repair and update this important public community space
Create a public gathering space that is inclusive and welcoming to all
Retain existing trees and support their long-term health
Respect the Square's heritage features and character feel
What's happening
Construction for Blood Alley Square will begin in January 2022 and will be coordinated with the adjacent development at 33 West Cordova Street.
In advance of the completion of the Square, we will develop a stewardship plan for Blood Alley Square in collaboration with community partners. This plan will guide the daily management, maintenance, and programming of the Square, and will continue to evolve over time. Staff will be reaching out to area stakeholders and community partners to develop this plan.
If you are interested in participating in the stewardship of this square, or have input to share, contact us at bloodalleysquareredesign@vancouver.ca.
For further project update information, see the notification letter . (923 KB)
Redesigning the heart of Gastown
Blood Alley Square is adjacent to Trounce Alley, one of Vancouver's original roads. Its narrow cobblestone lanes, historic streetlights, and brick buildings bring a unique sense of character unlike anywhere else in the city. The square is cherished by residents and visitors, and hosts a number of community events organized by neighbourhood groups. It's a place defined by the many social, cultural, and economic tensions that have existed in the Downtown Eastside for generations.
Policy 6.2.2 in the Downtown Eastside (DTES) Plan identifies Blood Alley Square and Trounce Alley as a priority for rehabilitation "to improve the public realm, increase safety, and introduce programming with support for community stewardship as a shared space, including opportunities for low-income residents". (25 MB)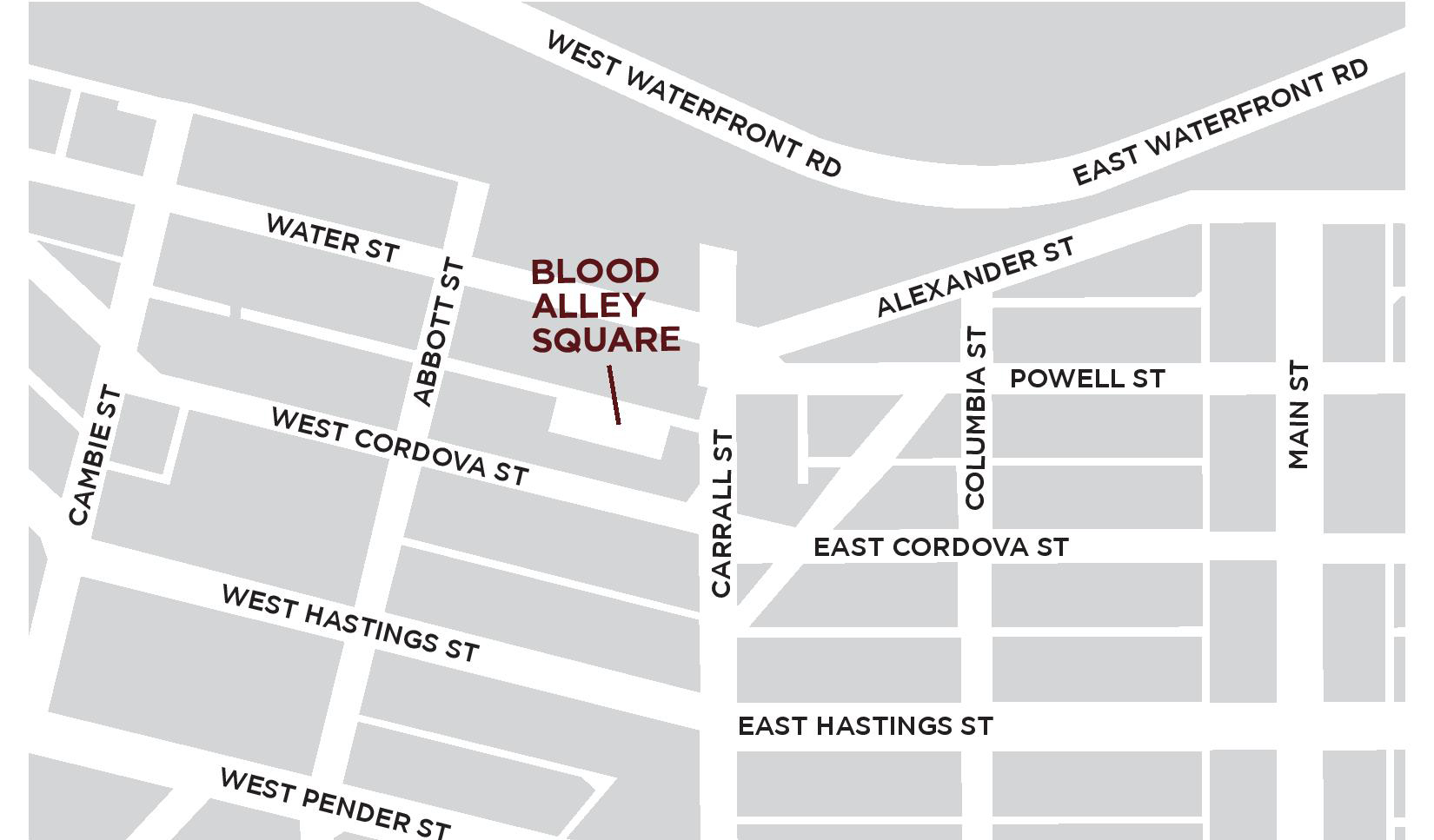 Past updates
May 15, 2019: open house
An open house was held to present the proposed design concept for Blood Alley Square. We're developing an exciting and vibrant redesign to create an inclusive space that is open to people from all walks of life.
Thank you to everyone that attended or shared their thoughts on the detailed design presented during this past round of consultation from May 15 to June 16, 2019. Your feedback will be used to refine the proposed design where feasible, while taking into account technical and financial considerations.
Tree management update
In direct response to feedback received, the tree management plan for Blood Alley Square, which initially retained 4 existing trees, has been updated to retain the existing significant tree located at the northern edge of the square. We have also developed a tree succession plan that incorporates the planting of two large size specimen trees that will replace existing trees that are to be removed due to their poor health. This will ensure that the tree canopy is restored and enhanced.
Next steps will include commencement of unhealthy tree removals summer of 2019 in coordination with the adjacent development, design refinement based on feedback received at the May 15 open house, engagement with local stakeholders to develop community partnerships for stewardship of Blood Alley Square, and coordination of a final design open house in conjunction with the Gastown Complete Streets Project in early 2020.
August and September 2016: open houses and questionnaire
Our August open houses reviewed the two draft redesign concepts for the square and alley, and waste management options.
Thanks to everyone who shared their thoughts on draft concepts for the redesign through our questionnaire. We were pleased to meet and chat with over 230 local residents, businesses, and community groups, and received over 180 questionnaires. Your feedback will help refine the draft design concepts, and give the consultant team a better understanding of how solid waste management can be improved.
June and July 2016
We hosted two kick-off events inviting you to help us redesign Blood Alley Square and Trounce Alley on June 1 and 4. We heard from neighbourhood residents, businesses, and community groups on what matters to them, and launched an online questionnaire during June 2 to 18. Your feedback will help shape the redesign by giving the consultant team a better understanding about what matters to you.
Contact the project team