Details for developers, designers, and builders
New developments located in the False Creek Neighbourhood Energy Utility (NEU) service area are required to connect to the City-owned system for space heating and domestic hot water, as per the Energy Utility System By-Law No. 9552 . Developers of new buildings in the Service Area are responsible for applying to the City for thermal energy service and for ensuring the building is designed to connect to the utility. (317 KB)
The Neighbourhood Energy Utility Connectivity Guidelines and Requirements provide detailed information for developers, designers, and builders on the technical requirements for connecting to the NEU as well as the permit review process. In addition, the (822 KB)Energy Utility System By-law 9552 describes the legal requirements for new buildings and lists all relevant levies and charges (see Schedule C of the by-law). (318 KB)
New developments applying for a building permit after September 1, 2019 are required to pay an initial connection levy. This levy is similar to connection fees used for water and sewer utilities and was developed after extensive consultation with industry. This cost to the development is offset by cost savings for the connected building's mechanical system and building envelope.
Service area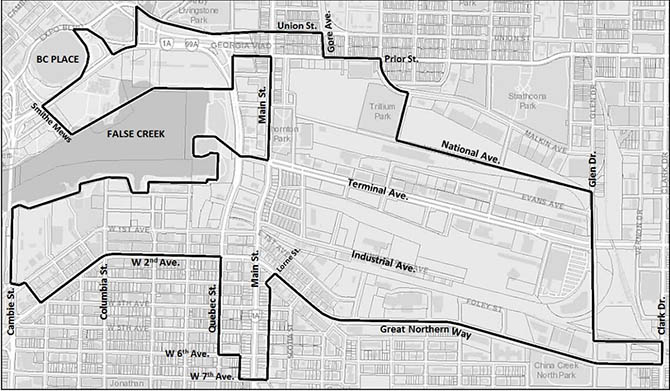 Development review process
At the rezoning or development permit stage, each building is reviewed by NEU staff to determine if it will connect to the neighbourhood energy utility.
The review at this stage ensures there is sufficient space in a suitable location for the energy transfer station room, and that utility pipe entry points are appropriately located for connection between the utility system and the new building.
Building permit requirements
Before a building permit is issued, the developer must:
Submit an Application for Thermal Energy Service . (347 KB)
The NEU Engineer conducts a connectivity review of the building's HVAC system to ensure compatibility with the neighbourhood energy utility's operational parameters. This process can take 2 to 3 months and should be initiated as early as possible once the building's mechanical design is complete.
Pay the initial connection levy and any charges related to an alternative location for the NEU equipment room (if applicable).