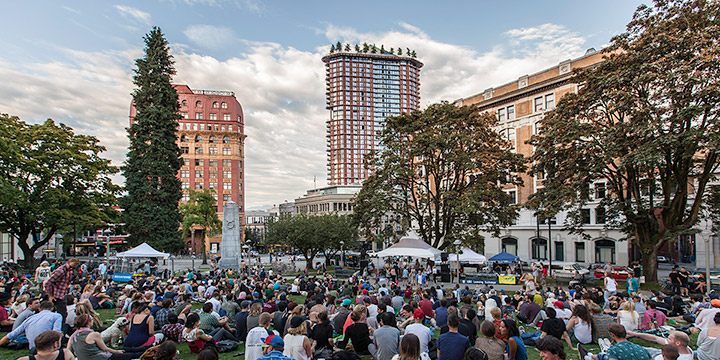 Downtown Eastside Plan
The Downtown Eastside Plan, approved by City Council in 2014, provides a vision, policies, and strategies for the Downtown Eastside (DTES) that focuses on ways to improve the lives of low-income DTES residents and community members.
The plan was developed in partnership with the DTES Neighbourhood Council (DNC), Building Community Society (BCS), and the Planning Committee.
Through each phase of the planning process, there was a range of community engagement opportunities, where residents, business, community groups, and stakeholders shared their ideas and feedback.
Get updates
What's happening
Read the November 2021 DTES Plan Newsletter
November 2021 - The twelfth issue of the DTES newsletter includes updates on the reduced fare transit pilot, UN Safe Cities initiative, new social housing development in the DTES, the Social Enterprise Program and Street Market, street improvements for safer travel, park programming for the community, public space programming in the DTES, grants, and updates on Chinatown Transformation.
Read the newsletter (1.8 MB)
---
DTES community hubs
October 2021 - In June, we informed you about the planned upgrades to four temporary public parklets and the creation of one new one as part of our efforts to create more accessible public spaces, or 'community hubs,' for Downtown Eastside residents.
At the DTES Community Fair (2019) public engagement event, community members shared their vision of 'community hubs' as public spaces for programming and services, where people can sit, chat with friends, enjoy a meal, and over time access other amenities such as charging stations, community information boards, and shelter from the rain and wind.
Between the months of May and July, we gathered feedback from five social service organizations and partners, parklet users, and DTES residents on an initial five temporary public parklets upgrades identified as community hub pilot sites.
Our report provides an overview of community engagement. The report presents the findings of a survey identifying infrastructure needs and demographic data to inform the design and implementation of upgrades. (2.5 MB)
The project has been a collaboration between Engineering, Social Policy, and Planning as well as our community partners. We want to thank our five community partners: Kilala Lelum, Evelyne Saller, PHS Outpatient Clinic, Union Gospel Mission, and Aboriginal Front Door.
---
Downtown Eastside policy updates to increase social housing
September 2021 – Under the Housing Vancouver Strategy: Three-year Action Plan (2017), modest increases in density and height to facilitate the delivery of more social housing were allowed in recently approved community plans.
During the month of September, you shared your views on the proposed updates to Downtown Eastside rezoning and zoning policy in the Downtown Eastside Oppenheimer District and FC-1 areas.
Read the full public engagement summary (462 KB)
Infographics of the DTES Plan
By City of Vancouver
DTES Implementation 2014-2019 (241 KB) and DTES Plan summary 2014
Related projects
Contact us
The Downtown Eastside Plan was developed in four phases.
Reviewing: We identified what the key issues were and what assets we had to work with.
Planning: We developed planning strategies and corresponding action plans. We also identified what would be accomplished, how, and when.
Feedback and approval: We got feedback from City Council and the public, and after incorporating all of the feedback, we presented the plan to Council for final approval.
Monitoring and evaluation: We will measure our results to determine whether we've made a difference and achieved our goals, and assess what's left to do.
View a detailed timeline of the planning process

Previous planning efforts in the Downtown Eastside have served to revitalize the area.
In April 2005, City Council approved the Carrall Street Greenway that now connects Gastown, the Downtown Eastside, and Chinatown. The greenway facilitates economic revitalization and community development in the Downtown Eastside.
On September 22, 2005, the Housing Plan for the Downtown Eastside was adopted by Council. The plan presents a vision for the future of housing in Chinatown, the Downtown Eastside Oppenheimer District, Gastown, the Hastings Corridor, the Industrial Lands, Strathcona, Thornton Park, and Victory Square. It addressed specific housing types: SROs, social housing, market housing, supportive housing, and special needs residential facilities.
From 2008 to 2011, $10 million was given to the Downtown Eastside to celebrate its heritage, culture, and history as part of the Great Beginnings: Old Streets, New Pride initiative.