East Fraser Lands (River District)
We're developing a new sustainable, complete community at East Fraser Lands (EFL). The plan calls for a mainly residential community with a variety of housing types and a commercial centre.
While the site was previously home to the Canadian White Pine, Wesgroup Properties (formerly Parklane Homes) now owns the majority of the land.
A complete community
Over 25 years the community will include:
Parks
A community centre
Schools
Childcare facilities
A riverfront walk
Other public amenities
What's happening
Public Hearing scheduled for Thursday, March 11 at 6pm
Council has referred the proposed amendments to the EFL Official Development Plan (ODP) and CD-1 (567) Waterfront Precinct to a Public Hearing on March 11, 2021.
This public hearing is to be convened by electronic means as authorized by Ministerial Order No. M192, "Local Government Meetings and By-law Process (COVID-19) Order No. 3".
Due to COVID-19, a Public Health Order currently prohibits members of the public from attending the City's Public Hearings in-person. Members of the public can listen and watch the proceedings online or follow Twitter @VanCityClerk. Speakers can participate by telephone or by providing written submissions.
Read the Public Hearing agenda
Send comments, request to speak at a meeting, find out how to view a meeting, and review related documents
---
Proposed amendments to the East Fraser Lands Official Development Plan (ODP) and CD-1 (567) Waterfront Precinct
As an outcome of the EFL Official Development Plan (ODP) 10-year review, changes to the EFL ODP and CD-1 (567) Waterfront Precinct are being proposed. The proposed amendments will allow for the following:
Revisions to the ODP to align with current City policies and directions
An additional floor area of 39,246 sq m (422,422 sq ft.) in Area 1 to increase housing options
An additional floor area of 104,358 sq m (1,123,303 sq ft.) in Area 3
An increased package of amenities, including 20 childcare spaces and 2 acres of park
Additional building height maximum from 24 to 28 storeys in the Waterfront Precinct
At the meeting, Council will also consider a staff recommendation for an alternative approach to deliver the community centre and utilities items.
To learn more about the proposed changes, refer to the Council report (February 9, 2021) (10 MB)
Get updates
Contact us
Area map
There are 126 acres of industrial land south of Marine Way and east of Kerr Street to Boundary Road.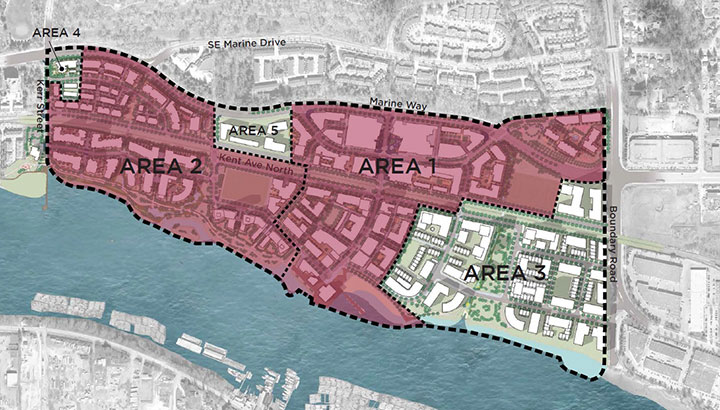 Development progress
Area 1, Area 2, and Kerr Street were rezoned in 2008 and 2010 respectively. Since then a number of development parcels have been completed, are under construction, or are in the design process. The map below highlights development progress to date. View the map in full size (604 KB)
Find information on current development applications and Development Permit Board reports.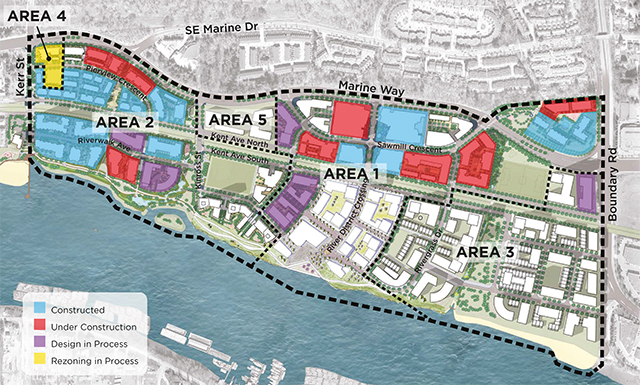 Additional information
Related projects
Timeline
Here is our process and anticipated milestones for the EFL ODP 10-year review planning program.
2016-2017

June 2017

Summer 2017

Phase 1: Establish planning program

Fall 2017

Phase 2: Develop options to address challenges

Winter 2017/2018

Phase 3: Refine concepts for EFL

Early Spring 2018

Phase 3: Confirm preferred concept + proposed ODP amendments

Spring 2018

Finalize interim ODP amendments and amendments to CD-1 Bylaws and Design Guidelines for a new, larger community centre site + affordable housing

Summer/Fall 2018

Council consideration of amendments: referral and Public Hearing

Fall 2019

Finalize broader ODP amendments

Winter 2020

Council consideration of amendments: referral and public hearing
Contact information, partner agencies, and website policies