What you need to know
Preventing pests and odours
Recycle and dispose of items the right way with Waste Wizard
Enter an item below to see how to recycle or safely dispose of it.
Allowed items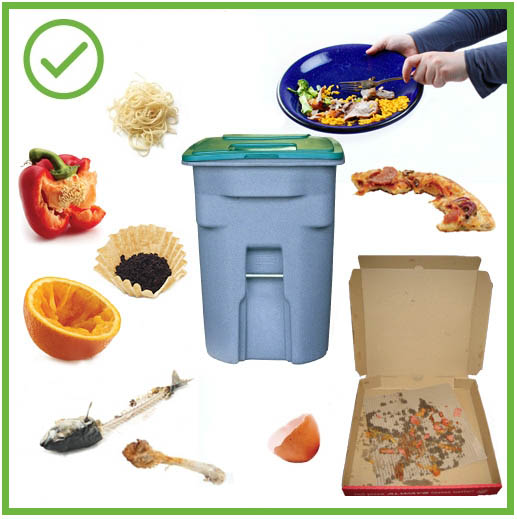 Food scraps
Dairy products, including cheese and yogurt
Egg shells
Fruit and vegetable scraps
Meat, bones, fish, and seafood shells
Noodles, rice, beans, grains, and bread
Plate scrapings
Small amounts of oil and fat (soaked in paper towel or newspaper)
Teabags, coffee grounds, and filters
Food-soiled paper products
Empty cereal boxes (no plastic liners)
Paper bags (for lining kitchen containers, such as Bag-to-Earth)
Pizza boxes
Newspaper (for wrapping food scraps or lining kitchen containers)
Used paper dishes (no plastic coating)
Not allowed
Fecal matter
Animal waste
Diapers
Plastics
Compostable or biodegradable plastic bags
Plastic bags, wrap, or containers
Products made of Polylactic Acic (PLA) (containers, disposable plates, cutlery)
The composting facility in Richmond cannot process any kind of plastic, even bags marketed biodegradable or compostable as it degrades the quality of the finished compost.
What to do with extra food scraps
If your green bin is overflowing, our crews may not collect it. Please make sure the lid can fully close.
Preventing food waste
Our region throws out 13,000 tonnes of healthy, edible food every year. All that effort, water, and energy? Wasted.
And that food rotting in our landfill? Creating methane, a powerful greenhouse gas.
Get tips to stop wasting food on the Love Food Haste Waste website
Make a kitchen container liner
Use our Green Bin origami guide to make a liner for your kitchen container in 5 easy steps.