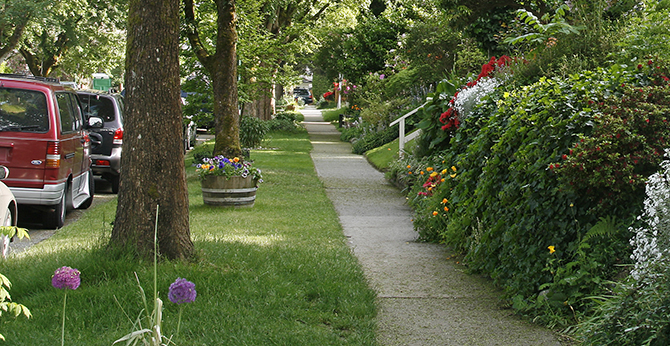 Gardening on boulevards
Installing a boulevard garden?
Ensure your garden meets clearance and measurements requirements.
We encourage residents, property owners, and business operators to take care of and maintain the City boulevard next to their property. Maintenance includes:
Cutting the grass
Trimming hedges and shrubs
Keeping clear of weeds and litter
Although most boulevards are grass, there are other landscaping and gardening possibilities that are allowed in residential neighbourhoods.
Multi-family dwellings in residential neighbourhoods are also allowed to garden.
We do not permit installation of:
Artificial turf on City or private property, as it does not have fully permeable characteristics
Sprinklers in boulevards. Home owners are responsible for any costs associated with unpermitted sprinklers in boulevards.
Help to create and maintain green spaces in Vancouver