Green rainwater infrastructure policies and reports
As part of our green rainwater infrastructure planning process, we have developed the Rain City Strategy. The strategy reimagines and transforms how we manage rainwater with the goals of improving water quality, resilience, and livability through creating healthy urban ecosystems.
The strategy will implement sustainable rainwater management across the city with a goal of using rainwater as a resource rather than a waste product.
Green rainwater infrastructure has been proven to be a significant cost-saving investment.
Target
Capture and clean 90% of rainwater in the city
Performance standard
Capture and clean rainwater from a minimum of 48 mm per day.
Vancouver rainfall
The Rain City Strategy will bring us into compliance with Metro Vancouver and Ministry of Environment requirements, and will guide how we manage and use rainwater in Vancouver.
Our goal is to capture and treat 90% of the rainwater that falls in Vancouver using a combination of green rainwater infrastructure and conventional pipe systems.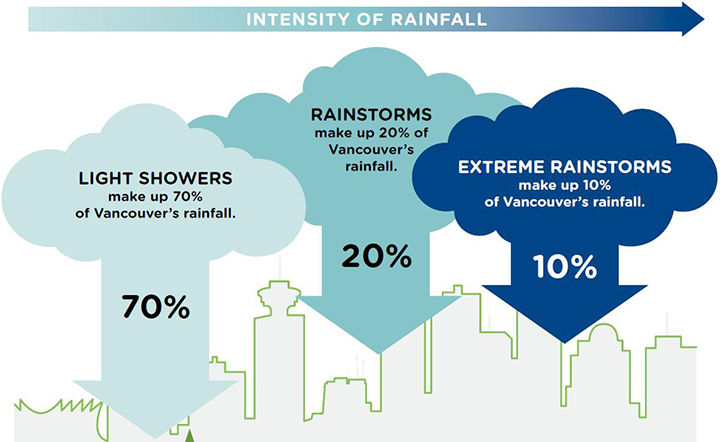 Documents