Langara Gardens policy planning program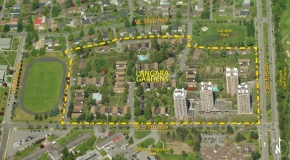 Langara Gardens is an 8.4-hectare (20.8-acre) site located west of Cambie Street between 57th Avenue and the lane south of 54th Avenue.
A comprehensive planning program was initiated to guide the future development of Langara Gardens. Planning for the site will ensure that existing rental units are protected or replaced, and potential new residential, retail, and community amenity uses are explored.
The planning program is being developed at the request of the Langara Gardens owners, Peterson and Concert Properties. The process to date has included many opportunities for residents, community members, and stakeholders to offer feedback and ideas.
The planning process will result in a document called a Policy Statement which establishes principles and objectives relating to:
Langara Gardens residents
Land use and density
Urban design legacy and built form
Park, open space and public places
Circulation and transportation
Sustainability and green infrastructure
Community amenities
The Policy Statement will be presented to Council at the end of the process and, if adopted, will guide any future rezoning of the site. While broad directions are confirmed in the Policy Statement, refinement of the proposal will occur in the rezoning stage.
Related projects and initiatives