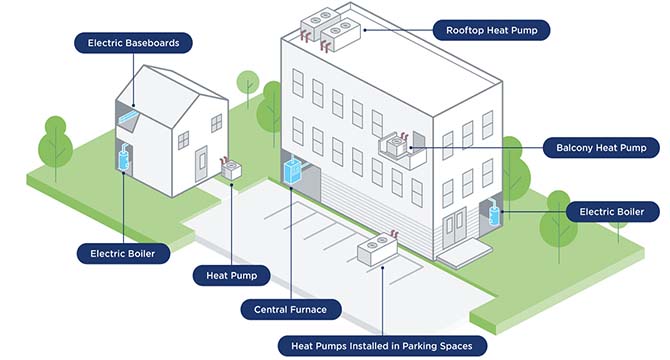 Mechanical permit
As of July 1, 2022, a mechanical permit will be required for the installation and replacement of heating and cooling systems for new construction and existing buildings.
The mechanical permit will help ensure that heating and cooling systems are installed effectively and safely. Additional inspections will be required under the mechanical permit to verify these systems.
The mechanical permit does not replace required building, electric, gas, plumbing, or other required permits.
You will be able to apply for the mechanical permit and call for associated inspections online beginning July 1, 2022.
What's happening

Trade permit: Question and answer sessions

Join us at a monthly question and answer session for trade permits enquires, including the new mechanical permit which will be required beginning July 1, 2022.
On the first Wednesday of each month
At 10am, PST
Getting a mechanical permit
You will need a mechanical permit to:
Install or replace heating and cooling systems, including heat pumps, boilers, and furnaces.
You will not need a mechanical permit to:
Complete maintenance, repairs, or replacement of minor components of existing heating and cooling systems.
Replace an existing heating or cooling appliance with one of the same fuel, type, and capacity.
New electronic applications
Our new electronic applications allows you to submit permit applications electronically and perform other functions digitally. Currently, some permits can be submitted online and may include the payment of fees. We're working on adding more permits online over time. Please refer to your specific permit's steps for more information.
Learn more about submitting your permit application electronically
Municipal Heat Pump Certification (MHPC)
Electrification Requirements