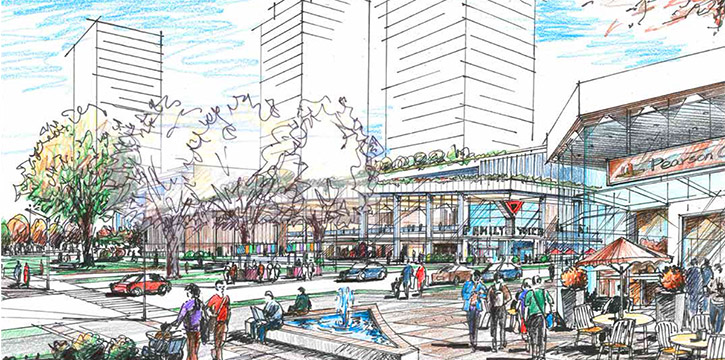 Pearson Dogwood lands rezoning application and policy statement
The Pearson Dogwood lands are a 10-hectare (25.4-acre) property bounded by West 57th Ave (to the north), Cambie St (east), West 59th Ave (south), and Heather St (west).
The site owners, Onni Group (developer) and Vancouver Coastal Health, applied in January 2016 to rezone and develop the property into a mixed-use community.
On July 25, 2017, Council approved the rezoning application.
The rezoning and development proposal is based on the Pearson Dogwood Policy Statement approved by City Council in 2014.
Compare the site now with the rezoning proposal
The illustration of the proposed development concept represents one interpretation of the Pearson Dogwood Policy Statement.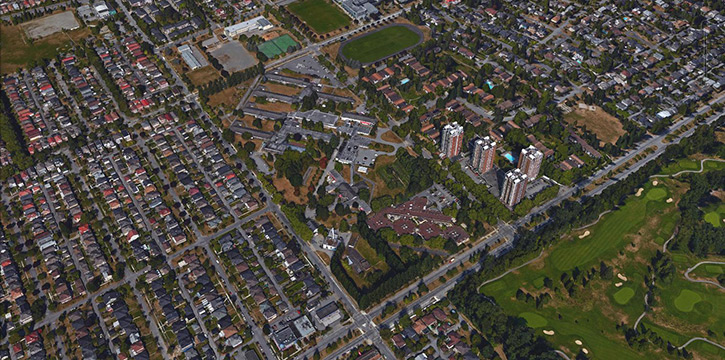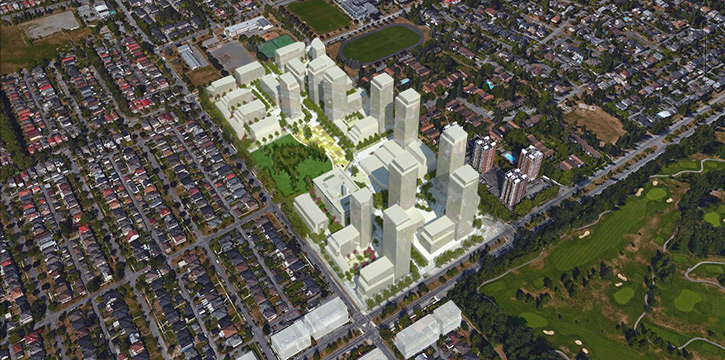 Before image by Google Earth. After image by Onni and VCH.
The site now

The approved rezoning proposal

Pearson Centre, a home to adults with a range of physical disabilities operated by Vancouver Coastal Health (VCH)
Dogwood Lodge, housing for seniors who require complex care operated by VCH
Stan Stronge therapeutic pool
BC Ambulance Services station
Open green space, mature trees, and a one-acre urban farm
Surface parking lots

Approximately 2,700 residential units, including 361 turnkey social housing units and land available to construct 179 social housing units
Approximately 114 Pearson supportive units
Commercial space
Health related facilities including a community health centre and complex residential care facility
69-space childcare facility
Adult day centre

Therapy pool

2.5 acre public park

1 acre urban farm

Height of 91.0 metres (299 feet) and floor space ratio of 2.83
What's happening?
July 2017
The rezoning application, referred by Council on June 27 to public hearing, was approved following the public hearing on July 20 and regular council on July 25.
View the policy report and public hearing documents:
Regular Council, June 27, 2017
Public Hearing, July 20, 2017
Regular Council Meeting: July 25, 2017
Next steps
The rezoning application has been approved in principle by Council on July 25, 2017. The application will be enacted once the applicant has met all conditions for enactment.
We expect a development permit application process to follow enactment.
Get updates
In 2014, City Council approved the Pearson Dogwood Policy Statement to guide the future redevelopment of the site. We developed the policy statement over a year-long collaborative planning process with help from VCH and the surrounding community.
The policy statement set principles and objectives for:
Land use
Density
Building forms and heights
Parks and open spaces
Community amenities
Transportation
Sustainability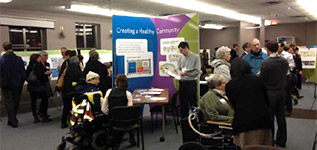 Past updates
March 2016
We asked what you thought about the rezoning application for Pearson Dogwood in an online questionnaire.
Thanks to everyone who shared their thoughts. We're currently analyzing the feedback we received and will provide a summary soon.
February 2016
We held two open houses on February 23 and 27 with the applicant team for you to learn about the rezoning application and ask questions. View the display boards:
Background information
Proposed VCH facilities
Proposed rezoning
Contact the rezoning team