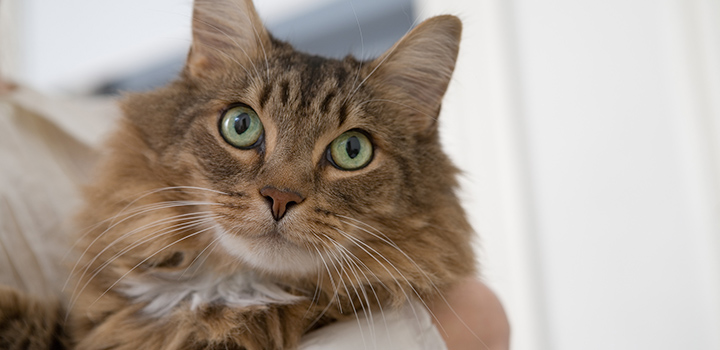 Pet emergency preparedness
Make your pets a part of your emergency plan. During an emergency, pets can become frightened and stressed. Having a plan and an emergency kit will make an evacuation much easier for you and your pet.
When planning for your pet, develop a buddy system with neighbours, friends, and relatives, so someone is available to care for or evacuate your pets if you are unable to do so.
Take your pets when you evacuate
If you have to leave your home during an emergency, don't leave your pet behind, even if you think you will only be away from your house for a few hours. The best way to protect your pet in an emergency is to bring it with you.
Once you leave your house, there will be no way to determine how long you will be kept out of the area, and you will not be able to return for your pets.
You may wish to put stickers on the main entrances to your home to alert rescue workers of the number and types of pets inside. If you have evacuated due to emergency, write "evacuated" with a permanent marker on your door sticker.
Make a pet emergency kit
Make sure you prepare a kit with enough supplies for your pet to last at least three days. Your kit should include:
Vet and vaccination records in zip-locked bags, and the number for your veterinarian
Up to two weeks' worth of medication, if needed
Pet first aid kit
Extra collar and leash
Blankets, toys, and treats
Cage, carrier, or kennel
Paper towels, disinfectant, and plastic bags for waste disposal
Non-spill food and water bowls
Cat litter
Food for at least 72 hours. If you use wet food, make sure you have pop-up cans or a manual can opener
The contents of your kit should be checked twice a year (when clocks change for daylight savings time). Food and water should be replaced every 2-3 months.
Learn more about pet preparedness
Get a licence for your dog
All dogs in the City of Vancouver are required to have a licence. When you buy or renew your dog licence, your pet's information will be entered into the Vancouver Animal Control's Emergency Pet Registry.
By having your dog included in the Emergency Pet Registry, emergency responders will know to look for your dog in the event of a disaster. This is especially important if you cannot get home to rescue your pet. Make sure your pets are wearing collars and identification tags, and consider micro-chip or tattoos for easy identification.