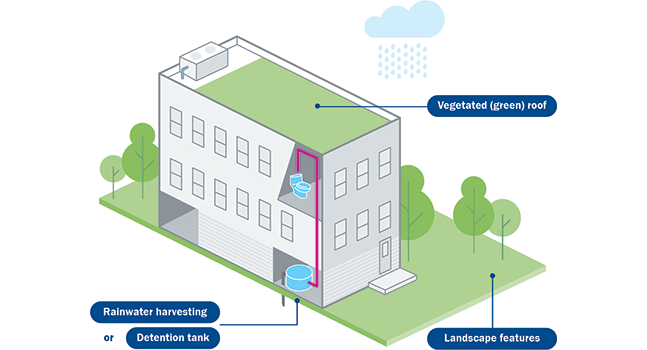 Rainwater management on private property
What's happening

Open office hour session on new rainwater management requirements and plumbing permit expectations

This informal session is intended for consultants and contractors assisting developers with the new rainwater management requirements coming into effect on January 1, 2024. The focus will be on plumbing permit application requirements.

Date: December 12, 2023
Time: Noon to 1pm
Cost: Free
Location: Online via WebEx webinar
---
Proposed rainwater management requirements for multiplexes webinar
Join us for a free webinar to provide your comments on proposed on-site rainwater management regulations for multiplexes. This webinar is intended for builders, consultants, contractors, and suppliers. Closer to the date, the proposals will be available on this webpage.
Date: February 1, 2024
Time: Noon to 1pm
Cost: Free
Location: Online via WebEx webinar
---
What's new: July 25, 2023
To simplify rezoning applications, we are updating our rainwater management requirements. Review the requirements
What's coming
Effective January 1, 2024, we will have simplified rainwater management requirements for certain new, private property developments. New Part 3 (complex) buildings in Vancouver will need to have rainwater management. The requirements will not apply to residential buildings with 8 or fewer units or to alterations of existing buildings. The Rainwater Management Bulletin will no longer be used. (903 KB)
What's the same
Water quality standards for discharged storm water remain unchanged. Review the details in the Sewer and Watercourse By-law (section 3) (346 KB).
The Groundwater Management Bulletin , and its underlying by-law text, remain unchanged. (1 MB)
In Vancouver, rainwater runs off into our sewer system and can cause:
To help reduce flooding and overflows, we:
Need to look at ways to manage rainwater
Are working with Metro Vancouver to improve the public sewer system
Private properties also have a role to play in keeping rainwater out of our sewers.
How to comply
Background
Contact us