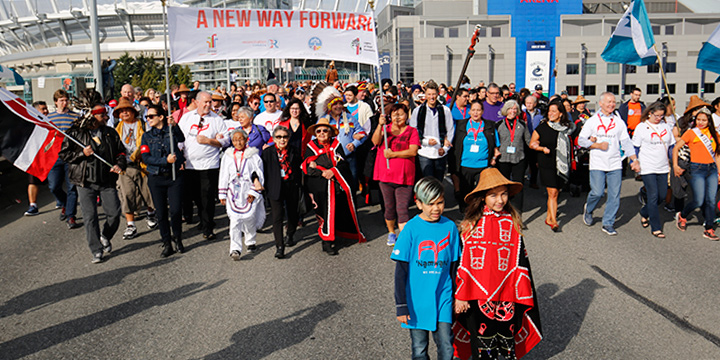 Photo by Reconciliation Canada
Reconciliation and cultural redress in the Northeast False Creek Plan
The City of Vancouver is in an era of reconciliation as governments across Canada reconcile the country's colonial history. On July 9, 2014, City Council adopted a framework for and designated Vancouver as a City of Reconciliation, arising from the City's recognition of the findings of the Truth and Reconciliation Commission. The designation and commitment followed the Year of Reconciliation in Vancouver from June 2013 to June 2014.
The work of the City of Reconciliation focuses on Indigenous peoples, seeking to ensure that this country's and this City's colonial past and the ongoing impacts of colonization on Indigenous People are understood (truth) and to build the capacity to move forward together in a good way (reconciliation) to support prosperity and well-being for everyone.
While the City continues to centre reconciliation with Indigenous People in our work as a City of Reconciliation, the City also recognizes the histories of other Vancouver communities who have experienced historic discrimination and the need to begin strengthening relations through a reconciliation lens with these communities.
What's happening
Collaboration between our VIVA Vancouver, Cultural Services, the Northeast False Creek Plan team, and the Hogan's Alley Society established the Hogan's Alley Activation adjacent to Nora Hendrix Place.
Local events, walking tours, and summer block parties have been hosted in the new space, celebrating black culture, and re-building community.
Policy highlights
Strengthen relations with the Musqueam, Squamish, and Tsleil-Waututh Nations by engaging and integrating feedback into street and park designs
Engage with the Musqueam, Squamish, and Tsleil-Waututh Nations and urban Indigenous communities to design a community gathering space that accommodates the program needs of these communities (gathering space, water access, and First Nations canoes)
Design public spaces with all user groups in mind to ensure that everyone feels welcome
Conserve, commemorate, and enhance living heritage and cultural assets in Chinatown by securing capital and cultural funding
Continue to engage with the Hogan's Alley Working Group to recognise Vancouver's Black Community through design and programming of the site at 898 Main Street