Emergency planning for people with disabilities and special needs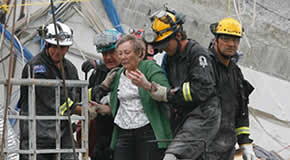 Emergencies can create extra challenges for seniors and people with special needs. Plan ahead so you are more confident about protecting yourself in any emergency.
Personalize your emergency plan and emergency kit to meet your own needs.
To determine the type of help you will need in an emergency, review the planning considerations based on functional needs:
Create an emergency support network
Don't go through an emergency alone. If you might need help during a disaster, ask your family, friends, and neighbours to join your emergency support network.
The relationship can be mutual – learn about each other's needs and be prepared to help in an emergency.
Plan ahead with your emergency support network to:
Stay in contact with you during an emergency
Check on you immediately after an emergency
Keep a spare set of your keys
Be able to access your emergency kit at any time
Keep copies of important documents like information about your prescriptions, medical equipment, and other health needs
Learn about your personal needs and how to help you in an emergency
Need home-based care, regular treatments, and prescriptions?
If you require home-based care or regular medical treatments (for example, a home care attendant, home health aide, or visiting nurse service), include your caregivers in developing your plan and become familiar with your healthcare agency's emergency plan.
Plan with your doctor for emergency prescription refills and other necessary medical needs. Keep a week-long supply (or more) of your prescriptions on hand.
Regular communications may be limited after an emergency, so be prepared to give clear, specific, and concise instructions to rescue workers.
Plan for your pet or service animal
If you have a pet or service animal, remember to plan for their needs.