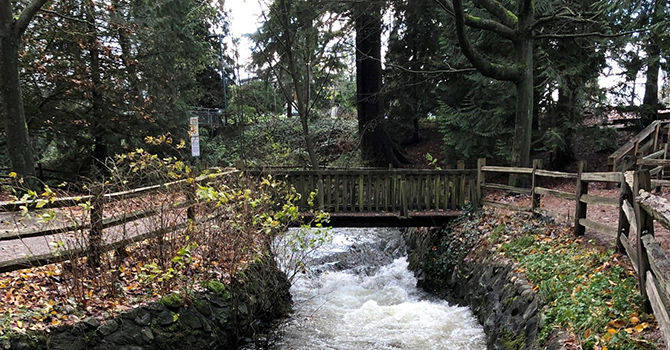 Still Creek Enhancement
What you need to know
Still Creek is one of the few remaining visible streams in Vancouver. It provides habitat and drainage by collecting and funnelling rainwater.
Renfrew and Rupert Station Area Plan
We're working on a new area plan around the Rupert and Renfrew SkyTrain stations, which falls within the Still Creek watershed.
We have been working with local partners and neighbouring municipalities to rehabilitate and enhance Still Creek, with the goal of creating a more naturalized creek corridor.
Key goals
Daylighting buried portions of the creek, where possible
Making room for water
Restoring creekside habitat to include native plants while removing invasive species
Increasing canopy cover and vegetation for urban wildlife
Removing old concrete features and naturalizing the creek banks
Adding interpretive signage and features for educational and recreational opportunities
Chum salmon return to spawn in Still Creek
Following rewilding and conservation efforts, chum salmon returned to Still Creek in 2012 for the first time in nearly 80 years.
Watch a short clip on the restoration of Still Creek and the return of salmon, produced by the Rivers Institute at BCIT.
Help our waterways
Get water wise. Follow lawn water restrictions. Find out what you can do and what we're doing to become a water wise city.
Pesticides can only be used in gardens to control infestations and destroy health hazards, not to beautify. Choose the right products and get tips.
Blue green systems are networks of corridors that manage water, contribute to the urban forest, and enhance active transportation routes.