IN THIS ISSUE
Participate in renter roundtables on the Broadway Plan

Take part in the Vancouver Plan housing survey

Contact details for the Renter Office
Welcome to 2021's first edition of the Renter Office newsletter, which keeps you updated on ways you can take part in City initiatives and provides the latest COVID-19 news that affects renters.

At the Renter Office, we spotlight City initiatives that impact renters and provide opportunities for renters in Vancouver to share feedback on their experiences. This month, we're looking at the Broadway Plan and Vancouver Plan, and how you can get involved through neighbourhood roundtables and surveys.
---
Share your feedback at the Broadway Plan renter roundtables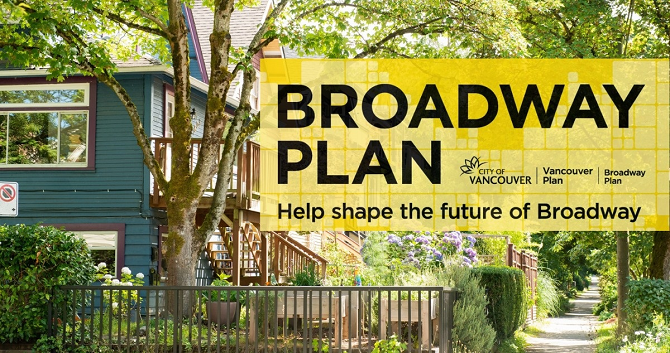 Renters play an important role in shaping the City projects that affect Vancouver's neighbourhoods, especially as these areas evolve and modernize through projects like the new Broadway Subway.

We want to hear from you on the Broadway Plan's Phase 2 Emerging Directions, and push for positive change and growth in the Broadway corridor between Clark Drive. and Vine Street.

What is the Broadway Plan?
Launched in March 2019, the Broadway Plan is a 30-year plan looking to improve affordable housing, jobs and amenities around the future Broadway Subway line.

Currently the project is seeking public input on the Broadway Plan emerging directions. These directions are proposed guidelines that will shape lots of key topics including housing, jobs, public spaces and amenities, while recognizing and enhancing the unique qualities of the Broadway area.

Learn more about the Broadway Plan and the engagement process.

How to get involved
It is important that renters share their feedback about the Broadway Plan as 59 per cent of people living in the study area are renters and 25 per cent of Vancouver's rental buildings are in these neighbourhoods within the study area.

Given this context, the City will be hosting a series of online Renter Roundtables where you can learn more and share your thoughts about the Plan's emerging directions, including the creation of new rental housing, protecting existing secure rental housing, renter protections, and mitigating displacement for existing renters in the area.

We're taking a neighbourhood planning approach that recognizes the distinct communities, places, issues, and opportunities in Mount Pleasant, Fairview and Kitsilano.

You can register to participate in the following neighbourhood roundtables:
Mount Pleasant – March 23, 6:00-7:30PM – REGISTER
Fairview – March 24, 6:00-7:30PM – REGISTER
Kitsilano – March 25, 6:00-7:30PM - REGISTER
Registration is open to all and is not limited to renters who live in the area.
---
Participate in the Vancouver Plan housing survey



This month, the City's Vancouver Plan team is conducting a housing survey that takes a deeper look at the obstacles renters face as they navigate living in Vancouver. This could include the high costs for housing, childcare, transportation, food, and other necessities.

What is the Vancouver Plan?
Launched in 2019, the Vancouver Plan is a long-term plan that will guide how we can grow, invest, govern, and work to build a city where current and future generations can thrive. A key goal of the Vancouver Plan is to ensure that the process reflects the voices and diversity of our population.
From Nov 2019 to Aug 2020, we heard the hopes, concerns and aspirations from over 12,000 residents which has deeply informed the 10 Goals for Vancouver. In the second phase of the process, we are delving into how to achieve these goals in the future and discuss the benefits and trade-offs needed to accomplish this vision.

How can you get involved?
Throughout the Vancouver Plan process, we have heard from renters about their fears of being displaced as a result of evictions, rising rents, lack of affordable housing choices or redevelopment pressures.

The Vancouver Plan housing survey is an opportunity to share your concerns around rising housing costs, displacement and exclusion from Vancouver housing. Your vital feedback will directly inform our key housing policy directions for the Vancouver Plan.
---
Contact us at the Renter Office
The Renter Office is here to support you with any questions you have, please email or call us through the Renter Enquiry Line. We are also offering phone services in Mandarin and Cantonese, and we hope to expand into different languages in the future.

Contact us if there's a language that you'd like our services to be offered in.
---
---
---