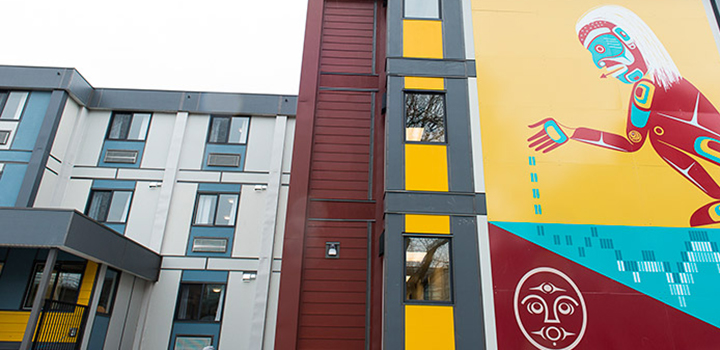 155 temporary modular homes filled with people previously experiencing homelessness
"Chartrand Place is great. The place I lived before did not feel safe," said Cliff Hayes, who lives in temporary modular housing.
July 17 2018 –
Vancouver's new temporary modular housing program has provided much needed, safe and stable housing for individuals living on the street or in shelters. As of July 16, 155 people experiencing homelessness have moved into new homes.
The City of Vancouver and the Province are working together to house local people who are homeless in the newly constructed temporary modular housing:
32 tenants have moved in their new homes directly from the street
38 have moved from single room occupancy (SRO) buildings
10 tenants moved into temporary modular housing from the recently closed Regent Hotel
62 have moved from shelters, and 13 have come from other locations
Shelters have been full for many months as Vancouver has faced a city-wide housing crisis but, as many people have moved into temporary modular housing, spaces have become available at shelters. Tenants who moved out of SROs into temporary modular housing have left vacant units that are able to be backfilled by people experiencing homelessness.
Who is using the temporary modular housing
40% of the 155 people who have been housed in temporary modular housing across three buildings are women
25% are Indigenous—a future temporary modular housing building will prioritize Indigenous tenants to reflect the need identified in Vancouver's homeless count
"Chartrand Place is great. The place I lived before did not feel safe," said Cliff Hayes, who lives in temporary modular housing. "Here, I can have myself a good night's sleep, cook my own food and go to the bathroom when I need. The staff here is great… it's perfect."
Services offered
In addition to creating much needed homes, temporary modular housing offers a variety of important services and supports to tenants, such as helping coordinate access to health care and support with finding employment. Access to these vital services and support helps tenants stabilize their lives, enhance their independent living skills and reconnect with their communities.
Neighbours of the completed buildings donated welcome baskets to the new tenants, and joined community barbeques to make their new neighbours feel at home.
Commitment
The homes are part of a $66 million commitment from the Government of British Columbia through their Building BC: Rapid Response to Homelessness program, to build a total of 600 units of temporary modular housing to address the immediate needs of homeless residents in Vancouver.
So far, the City and the Province have announced approximately 550 temporary modular homes which are in various stages of the development process.
Approved homes
Approved temporary modular homes include:
Reiderman Residence – 7430 and 7460 Heather Street (78 homes built and tenanted)
Chartrand Place - 1131 Franklin Street (39 homes built and tenanted)
Aneki Housing for Women - 525 Powell (39 homes built and tenanted)
4480 (formerly 4410) Kaslo Street (52 homes under construction)
Osborn Square - 2132 Ash Street (formerly 595 and 599 West 2nd Avenue) (52 homes under construction)
Little Mountain - East 37th Ave near Main St (46 homes approved)
TOTAL = 306 homes
Housing sites at permit stage
Temporary modular housing sites at development permit stage include:
688 Cambie Street (approximately 100 homes, development permit application has been submitted to the City)
4949 Heather Street (approximately 100 homes, development permit application has been submitted to the City)
215 West 1st Avenue (approximately 50 homes, development permit application has been submitted to the City)
TOTAL = approximately 250 proposed homes