W2 Board continues to work on revised long-term plan for Woodward's Community Space
December 20 2012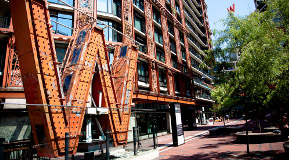 City of Vancouver staff continue to support the W2 Society Board while it develops a revised, stable recovery plan following the layoff of staff due to the financial situation of the Society. W2 is over $95,000 in arrears to the City and has not made a payment since moving into the Woodward's community amenity space in September 2011.
Reports of 'eviction' of tenants are inaccurate. The W2 Board and its sub-tenants continue to have access to their office during normal working hours. Furthermore, public access to the lounge, meeting room, and computers is available during working hours. However, after hours anyone who does not have security clearance will not be granted access.
Whatever the path of W2, there are a number of other issues which have been impacting on the Woodward's business and residential community over many months. These issues broadly speaking include W2 not demonstrating capacity to adequately oversee the property they have leased from the city by allowing access to the space to individuals who are compromising security and putting the city's and other tenants' property at risk, and the staging of events which are not well contained or managed within the lease parameters, which again put the city's head lease and property at risk.
The W2 Media Arts Society facility has been operating at a financial loss for the past year. While it restructures, the Board of Directors of the Society is working with stakeholders to create a viable plan that allows W2 to meet its community access mandate.
The W2 Society Board is dedicated to working cooperatively with the community, interest groups, and the City to ensure the continuation of community-based programs and services through a financially viable model. The City of Vancouver is working in partnership with the Board, supporting the vision for a new, resilient W2. The City anticipates that W2 will likely not require the same amount of floor space within their new model as they are currently leasing. When their plans become clear in January, the City will make available, through an appropriate process, the use of any space to other organizations that meet the community access mandate of Woodward's.