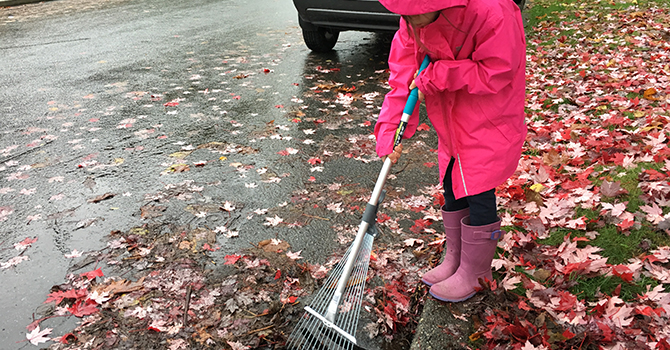 Adopting a Catch Basin - a 'Grate' way to help your community
October 8 2020 –
Fall and wet weather is here once again and so we're calling on all residents to consider joining our Adopt a Catch Basin program to help prevent neighbourhood flooding.
During these extraordinary times, residents across the city have been stepping up to help out in their communities. Adopting a catch basin is an easy and safe way for people of all ages to get involved and give back.
How to adopt a catch basin
Now in its fourth year, the program continues to grow in popularity. A broad community of residents has adopted more than 3,000 catch basins, ensuring that they remain free of leaves and debris so that rainwater can go with the flow.
Finding a catch basin is easy. Visit adoptacatchbasin.ca and choose from a live map of more than 45,000 catch basins across the city. If you see one that's marked with a heart, it means that particular catch basin is in need of a little extra love to remain free and clear of obstruction.
Personalize your catch basin
Residents are encouraged to personalize their catch basin with a "grate" name of its own. Clever results like "Grate Expectations," "Live Inlet Die" and "Kevin Basin," among many others, are then displayed online to inspire other adopters. City staff have rakes available upon request, to make it easier for everyone to pitch in to prevent flooding.
Leaf cleanup is an important part of reducing flooding in the rainy fall and winter months, and something as simple as raking away a few leaves during a stroll or commute can go a long way.
Report flooding
The City also takes care of seasonal leaf removal and street cleaning. We encourage residents to use the VanConnect app or call 3-1-1 if they see flooding or find a catch basin that's clogged or contains hazardous materials.