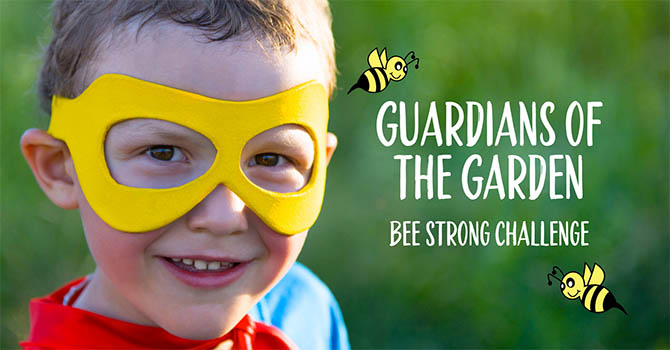 Bee strong at VanDusen Botanical Garden during spring break
March 9 2021 –
VanDusen Botanical Garden is launching Guardians of the Garden, a new program to educate and connect children with nature. The program will start off with the Bee Strong Challenge for spring break, teaching children about the importance of pollinators and how they can do their part to protect them.
Tickets are on sale now for the challenge, which runs March 12 to April 5. Children who complete the self-guided route and Bee Strong activity sheet will receive a Bee Strong badge, as well as a treat and take-home DIY garden-inspired activity. Suitable for children ages four to 10 (but all ages are welcome), participants will earn their first Guardians of the Garden badge. Capes and pollinator costumes are encouraged.
Both an admission ticket/member reservation and a Guardians of the Garden activity ticket must be purchased online in advance to participate in the challenge. Guardians of the Garden tickets are $8 each plus GST and online service fees. Spaces are limited. Parents/guardians only need to purchase a general admission ticket.
Bees are perfect pollinators
Pollinators face many threats such as increased pesticide use, loss of habitat, decreased plant diversity, and climate change so it's critical to teach children about this important part of our ecosystem.
The Bee Strong Challenge will teach children why bees are perfect pollinators – bees can pollinate up to 5,000 flowers a day, pollinate more than a quarter of the food we eat, and much more.
Visit VanDusen Botanical Garden this spring
March is a great time to visit VanDusen as spring is a time of regeneration when plants and pollinators demonstrate their resilience after the winter. Plants blooming in March include flowering currant, hybrid hellebores, kobushi, daffodil, heaths and heathers, pink weeping spring cherry trees, lily-of-the-valley shrub, and camellia 'Debutante'.
The garden is home to 7,500 taxa (unique species and varieties) arranged in 50 distinct collections. From fragrant to edible plants, some collections feature plants that are closely related, while others include varieties from specific regions or habitats.