Building permit values hit all-time record as Vancouver's economic growth continues
January 14 2015
"An all-time record for building permit values is an important example of how Vancouver's economic action strategy is working," said Mayor Gregor Robertson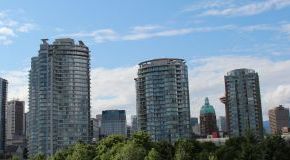 Building permits issued by the City of Vancouver in 2014 hit a value of $2.83 billion, exceeding pre-recession levels and marking an all-time record in Vancouver's growing economy. 
Building permit values of $2,825,700,469 in 2014 represent an increase of :
28 per cent from 2013
77 per cent from 2008 
"An all-time record for building permit values is an important example of how Vancouver's economic action strategy is working," said Mayor Gregor Robertson. "Low taxes, less red tape, and innovative new incentive programs at City Hall are helping to attract new investment to our city and create thousands of highly-skilled new jobs."
"Whether it's with new investments in our high-tech sector, a boom in new office space, or unprecedented new purpose-built rental housing, these numbers are further proof that Vancouver's economy is continuing its exciting positive momentum."
Key developments that contributed to the increase
Examples of key developments that contributed to the 2014 increase include:
The Teck Acute Care Centre at BC Children's Hospital (construction value: $287 million)
Kensington Garden by Westbank at Kingsway and Nanaimo – three 14-storey towers and a five-storey building containing 392 units and a proposed grocery store (construction value: $65 million)
The Charleson by Onni – a 44-storey tower with 253 units, where 133 units are rental, and a child daycare facility is on the ground floor (construction value: $46 million)
The new student services and science building at Langara College (construction value: $46 million)
A new 195-unit rental building by Bosa BlueSky Properties on Main at East Georgia streets (construction value: $27 million)
Building permit values since 2008
The following building permit values are annual figures for the last seven years:
| Year | Building permit values |
| --- | --- |
| 2014 | $2.8 billion |
| 2013 | $2.2 billion |
| 2012 | $2.6 billion |
| 2011 | $1.7 billion |
| 2010 | $1.5 billion |
| 2009  | $1.3 billion |
| 2008 | $1.6 billion |
View more statistics on building permits
How we have improved City services
With building and development permit applications up 48.4 per cent from the previous 10-year average, the City has taken a number of steps to ensure continued improvement of processing times and customer experience.
Creating a single point of contact for customers
The new Building and Development Services Centre at 515 West 10th Avenue merged six different building and development service counters, improving coordination of permit delivery.
Introducing an online information system for permit and licencing
This portal allows customers to:
Apply, pay for, and print permits online
Track the status of their application
Book inspections
The online self-serve portal has launched with a pilot group of trades contractors. Over 300 online accounts have been created and more than 1,440 permits have been issued online. In December, 30 per cent of permits were issued online, a significant increase from 10 per cent in September.
Hiring and training more staff
Our 14 new temporary and permanent staff include clerks, project coordinators, tree inspectors, and landscape planners.
Establishing a small-scale development working committee
The committee has representation from the building and design communities and it initiates collaborative dialogue on:
Permit processing issues
Implementation of bylaws, policies, and guidelines
Emerging Council initiatives
Phasing in a drop-in permit intake system for new homes
We are phasing in a two-day-per-week drop-in intake system for new single family housing and laneway housing construction permits effective January 19, 2015. This will enable customers to make their applications in person at the services centre without the need for a pre-booked appointment.
One day per week, we will offer a drop-in intake system for revisions to new single family housing and laneway housing construction permits.
We will continue to offer pre-booked appointments for customers who prefer not to wait in line.