Gathering Place volunteers, from left: Andrew Blackwood, Joseph Albina, Vicky Nicholson, Terry Soper
The value of one, the power of many
Celebrating Vancouver's volunteers and their thousands of hours of service
The Gathering Place means a lot to me. It's a safe place. It's comfort. This place has changed my life.
Andrew Blackwood, a Gathering Place volunteer
April 20 2021 –
This National Volunteer Week, we're celebrating and thanking every single volunteer in Vancouver who donates their time and generosity to help change the lives of others.
Thanks to hundreds of caring and compassionate individuals, the City's three community centres — The Gathering Place, Evelyne Saller, and Carnegie Community Centre — are able to offer an array of vital services to residents with lower-incomes or people experiencing homelessness.
Every year, volunteers contribute approximately 30,000 hours of their time at The Gathering Place, a vibrant community in the Downtown South, which is open to everyone. The centre's focus is essential services including hot meals, showers, laundry and shelter, as well as providing accessible and engaging programs that focus on food and nutrition, health, education, recreation, arts and culture, and community development.

Find out more, apply to become a volunteer, or donate to The Gathering Place.
Quotes
Sindy Bruno, Community Programmer
"The bulk of our Volunteer Program is made up of residents who are marginalized, primarily in the Downtown South area, many of whom live in nearby hotels and low-income social housing projects," says Sindy Bruno, Community Programmer. "Many of these volunteers are experiencing homelessness or have special needs ranging from the issues surrounding extreme poverty to the challenges unique to those who cope daily with mental as well as physical disabilities. For 25 years, they have relied heavily on the Gathering Place to provide low cost healthy food daily with the use of volunteers tickets and a place to go daily that provides social and recreational activities to help relieve loneliness and isolation many of them struggle with. With all that they still commit their time and skills to the Gathering Place which is so essential to helping the centre run smoothly. We really couldn't do what we do without them."
Andrew Blackwood, Gathering Place volunteer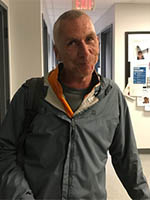 "The Gathering Place means a lot to me. It's a safe place. It's comfort. This place has changed my life." says Andrew Blackwood, a Gathering Place volunteer.
"I volunteer at the Gathering Place because I feel safe, understood, and not judged. I like the staff because I can trust them and ask them for advice and support when I need it. The Gathering Place has given me the opportunity to help others that struggle, and I know how that feels. It has really helped with my confidence," Andrew added.
When Andrew Blackwood first started volunteering, he was experiencing homelessness and living in Stanley Park. He starting volunteering at The Gathering Place four years ago to keep busy during the day and use the services provided by the centre. Andrew has volunteered almost every day since then and The Gathering Place is proud to say he has just been hired to work as a food services worker.
Vicky Nicholson, Gathering Place volunteer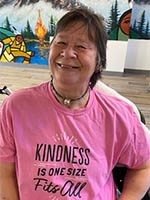 Vicky says: "The Gathering Place has been my second home for many years. It has helped me stay sober and at the same time allowed me to give back to those struggling like I did. This place helps keep me busy while helping the community out. The Gathering Place is a place of safety for me. A place I can go to connect with people and make friends. The staff are like my family and always look out for me."
A former medal-winning wheelchair racer, Vicky has volunteered at The Gathering Place for almost 20 years. The Gathering Place is very special to Vicky. She visits to socialize, eat, participate in programs and connect with the community. Vicky is a very active volunteer, helping with special events and putting together meal tickets. She is also a board member. The Gathering Place team say Vicky is a dedicated, committed, hard working individual and one of the sweetest ladies you'll ever meet.
Joseph Albina, Gathering Place volunteer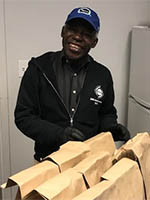 Joseph says: "It means a lot being at Gathering Place. Everyday you meet people going through some difficulties in their life. Sometimes they just need someone to talk to and to listen and maybe that helps them just like it helps me. Especially now during this pandemic it's been so depressing for everyone. It's so important to stay connected and come here so we can all help each other out. This place has helped me so much and I hope I can help others too."
The Gathering Place team say Joseph has the most contagious smile and positive energy you will ever see. A regular health centre volunteer, Joseph helps with laundry services as well as the donations and shelter programs. Joseph is one of The Gathering Place's most committed and hardworking volunteers that they can always rely on.
Terry Soper, Gathering Place volunteer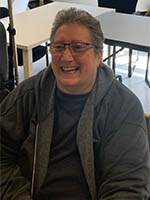 ​​​​​​​Terry says: "The Gathering Place is the most important place in the neighborhood to me. The services provided here are essential to the survival of so many people whether they are homeless, seniors, new immigrants, or people with mental health or addiction issues. This place is a central hub for all vulnerable people. It's a place where all are welcome, as it should be everywhere. This place is my whole heart."
Terry has volunteered at The Gathering Place for more than two decades and runs a program helping prepare tax returns every year for the most vulnerable residents of the Downtown South community. Terry runs her much sought-after program for free and The Gathering Place say they are extremely lucky to have her.