City accepting applications for Greenest City Grant
December 22 2016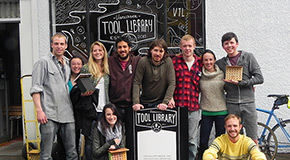 We're now accepting applications for the Greenest City Grant. The program will provide $205,000 per year to support community-led projects and programs that help us achieve our Greenest City Action Plan targets.
Applications close on February 6, 2017.
Who can apply
Your organization must be a registered charity or a registered BC society .
Organizations from outside of Vancouver may apply, but projects must take place in and benefit Vancouver.
You can apply for up to 50% of the project's budget (per project) to a maximum of $100,000 (the typical grant amount is expected to be between $35,000 and $45,000).
What projects are eligible
How to apply
Learn more and register for the workshop
Background
Since 2012, we have funded with the Vancouver Foundation over 600 Greenest City projects and distributed about $2 million. Projects have resulted in tangible outcomes across all 10 Greenest City goal areas.