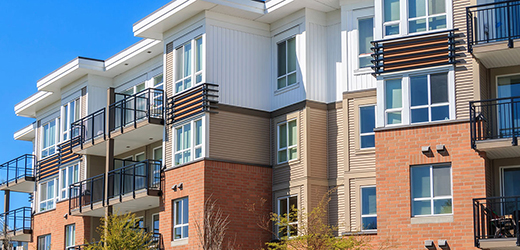 City approves record number of housing units in 2020
Rental, social, and supportive see historic increases
May 7 2021 –
Although 2020 was a challenging year due to the global pandemic, the City is firmly on track to deliver 72,000 new homes by 2027 as part of the ambitious Housing Vancouver strategy.
The City has delivered nearly 40% of the housing strategy target to date, with 28,724 new homes approved so far. The fact that this has also been completed within four years means that City Council and staff are enabling housing delivery at a pace which can meet the overall target of 72,000 new homes.
Last year, both secure rental and social and supportive housing saw historic approval numbers with these two categories making up the majority of all units approved.
With an emphasis on creating more of the right kind of homes for residents, the City approved 7,899 units in 2020 , including: (561 KB)
1,326 social and supportive homes
2,430 purpose-built rental units
3,451 condominiums
384 laneway homes
290 townhouses
18 coach houses
2020 is the also first year that more rental units have been approved compared to ownership housing. 52% of units approved were primary rentals, including social, supportive, purpose-built rental housing and laneways, while 48% was owned, including condominiums and townhouses. In 2019, 46% of approvals were for rental properties, and 54% were owned.
Other achievements
Other achievements that highlight this shift in supply of new housing include:
For the first time in at least ten years, over half (53%) of new housing approvals in 2020 were for purpose-built market rental and social housing, with approvals for these types of units doubling since 2019.
Over 350 new below-market rental units were approved in 2020, five times the amount in 2019.
Of the total rental approvals in 2020, 48% of units were approved under the Moderate Income Rental Pilot Program, delivering 928 market and 233 below-market rental units.
Increasing the supply of family-oriented housing: Half of all units approved from 2017-2020 have been family-oriented units with two or more bedrooms.
Though 2020 saw the highest number of approvals for below-market rental, only 33% of approved homes from 2017-2020 are affordable to those on an income of $80,000 or lower. As such, the City will encourage the right supply of housing by continuing to engage senior levels of government to create deeper levels of subsidy, while supporting new and existing policies, programs and plans. By these means, we aim to achieve the Housing Vancouver goal of making 50% of units affordable to those with lower incomes by 2027.
Looking forward, we will continue to prioritize the COVID-19 response and recovery across all departments. In housing, this means ongoing partnerships to provide housing and services for the most marginalized populations, as well as continuing approvals of key housing and policy initiatives.
In response to Council direction, City staff are working on an assessment of existing and future housing needs in Vancouver to refresh the Housing Vancouver targets for new housing. The work will involve analysis of existing and new data, collaboration with Metro Vancouver on population growth and dwelling estimates, and consultation with key housing and population experts.
In order to track the progress of Housing Vancouver over the next ten years, City staff have developed the Housing Vancouver Data Book . The Data Book provides a comprehensive resource on data and indicators related to housing demand, supply, and affordability in Vancouver. (6 MB)
Background
Adopted in 2017, Housing Vancouver is the 10-year housing strategy for the City of Vancouver to foster a diverse, vibrant community. The strategy is based on 3 core principles: creating more of the right supply of housing that is affordable for people who live and work in Vancouver; protecting our existing affordable housing into the future; and ensuring support for vulnerable residents.
Learn more about Housing Vancouver's targets and priorities
For more information, visit:
Quotes
Mayor Kennedy Stewart
"A mere four years into our ambitious Housing Vancouver strategy, and in the face of an extremely challenging year, we are delighted to have achieved a major milestone in shifting approvals towards the 'right supply' of housing that better supports the needs of all Vancouverites," said Mayor Kennedy Stewart. "Supporting families, renters and those on low-moderate incomes has been a key priority of this work and will continue to shape our focus as we recover and move forwards together."
Theresa O'Donnell, general manager of Planning, Urban Design, and Sustainability
"Despite widespread challenges from the pandemic, we are highly encouraged by the progress in 2020 and remain motivated to meet Housing Vancouver's goals to create a healthier housing system that works for everyone," said Theresa O'Donnell, general manager of Planning, Urban Design, and Sustainability. "We've made a dedicated effort to shift our focus towards more rental and social and supportive housing to support individuals and families with a range of incomes."