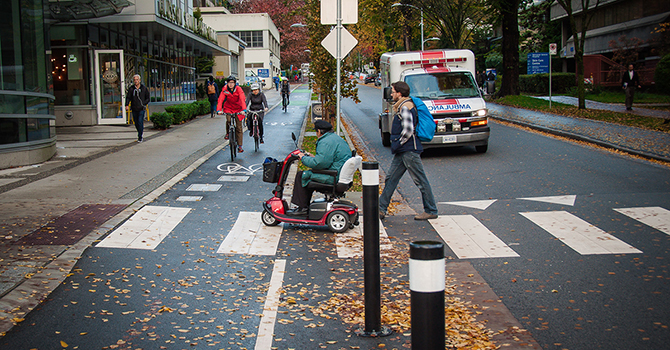 City begins work next week on street safety upgrades in 10th Avenue Hospital Zone
February 10 2021 –
Starting Tuesday February 16, we will begin construction to improve safety and accessibility on 10th Ave between Willow and Ash streets. This project is a continuation of street safety work which started in 2018 between Oak and Willow Streets. Construction will take place in stages until later this summer.
Over the coming months, City crews will be making changes to widen sidewalks, raise intersections, and install an accessible traffic signal. Additionally, there will be five new accessible parking spaces, enhanced wayfinding signage, better lighting, and an improved passenger loading zone in front of the Eye Care Centre. As a growing number of people walk, bike, and roll through this busy corridor, these improvements will make it more convenient, safe, and comfortable for people of all ages and abilities.
This project also includes sewer infrastructure upgrades between Heather St and Ash St, new protected bike lanes, and the installation of storm water tree trenches to make better use of storm water run off.
Impacts during construction
We are working closely with the health care providers in the area to ensure safe and convenient access is maintained at all times during construction, especially to Vancouver General Hospital's Emergency Department and BC Cancer. There will be some traffic and parking impacts during construction and visitors to the area are being asked to plan ahead to ensure they have plenty of time to use a pick-up and drop-off zone or to find off-street parking.
We encourage people cycling in the area who are not destined for the Hospital Zone to use nearby off Broadway (W 7th Ave) or W 14th Ave bike routes as alternates to 10th Avenue.