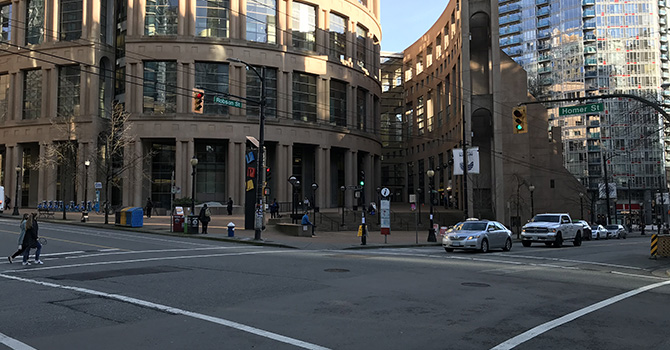 City begins work this week on East Robson Upgrades
March 22 2021 –
Starting this week, we'll begin water, electrical, and street infrastructure upgrades along Robson St from Granville St to Beatty St. Work will be underway until later this fall.
As part of our Annual Asphalt Rehabilitation program, which helps keep our transportation network running smoothly, street rehabilitation will take place in the area. This includes intersection improvements, repaving, sidewalk and curb restoration, new road markings, as well as a complete road restoration of Robson St between Homer St and Seymour St.
This vital work includes the replacement of an aging water main originally installed in 1947. The new water main will have a life expectancy of 100 years to help serve this growing business and residential area.
In coordination with the project, BC Hydro will also be completing upgrades to its infrastructure in the area.
Access to businesses in the area and to the VPL Central Library will be maintained at all times during construction. We encourage visitors to plan ahead and expect some intermittent road closures, parking impacts, and traffic in the area.