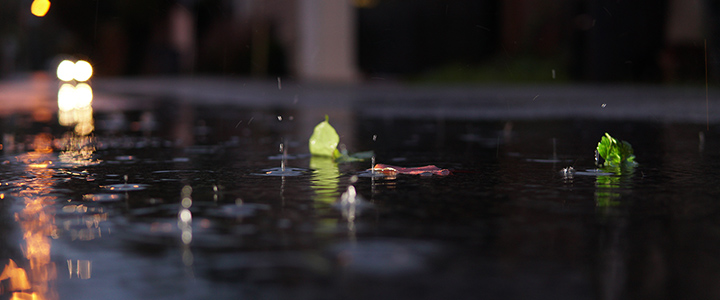 City calls for caution on the roads with rain and darker weather
November 3 2020 –
With heavy rain forecast by Environment Canada over the next few days resulting in reduced visibility on our roads, we are asking motorists to drive with extra caution and watch out for people walking, biking, and rolling.
The heavy rain combined with Daylight Savings means it's darker during the evening commute making it harder to see pedestrians and cyclists. Traffic collisions involving pedestrians increase in rainy, dark weather.
Pedestrians are our most vulnerable road users
Collisions involving pedestrians are more frequent between 3pm and 8pm and during hours of darkness in winter months
Pedestrians are involved in less than 1% of all traffic collisions, yet account for 61% of all traffic fatalities in Vancouver.
75% of pedestrian collisions occur at intersections, largely occurring when vehicles are turning left or right.
It's important that motorists turn on their headlights, heed the speed limit, and approach crosswalks and intersections with caution.
City crews are also out monitoring and responding to incidents of street flooding as needed.
Adopt a catch basin
Residents can also do their part by joining our Adopt a Catch Basin program. We thank the residents who have already adopted 3,000 of the city's 45,000 catch basins, but we are always looking for more to help reduce neighbourhood flooding.
Sign up to adopt a catch basin
More ways residents can help during heavy rainfall
Use VanConnect: We appreciate any assistance from residents in reporting non-emergency flooding on City streets and sidewalks, fallen tree branches or other issues via the VanConnect app helps to inform the City's operational response. Download the City's mobile app, VanConnect. If there is an immediate safety issue please call 3-1-1.
Report downed power lines: Report down power lines to 911 and BC Hydro, 1-888-POWER-ON.
Check your basement: For residents who live in homes with basements, you may want to check your backflow valve or sump pump.
Know your obligations: Raking or blowing leaves into the street is a finable offence up to $10,000. Learn more about how the City supports leaf cleaning.