City Council appoints Chief Election Officer for upcoming by-election
July 27 2017 General voting day set for October 14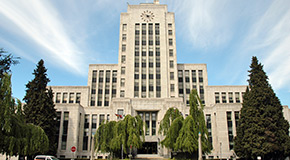 Last night, Vancouver City Council appointed City Clerk Janice MacKenzie as the Chief Election Officer responsible for the upcoming by-election scheduled for Saturday, October 14.
This is in accordance with section 10(5) of the Vancouver Charter which requires that the general voting day be on a Saturday no later than 80 days after the date the Chief Election Officer is appointed.
The Chief Election Officer is responsible for overseeing all aspects of the election, in accordance with provincial legislation.
Why we are holding a by-election
The by-election is being held to fill the vacant position on City Council following the resignation of a city councillor.
As well, since the Vancouver School Board seats are currently vacant, there is an opportunity to elect nine new Vancouver School Trustees in the same by-election.
However, the Province must inform us of its intent to hold a by-election for Vancouver School Trustees by August 4. We have not been notified by the Province at this time.
Key events and dates
| Event | Date |
| --- | --- |
| Information packages for candidate available | August 8, 2017 |
| Candidate nomination period | August 29 – September 8, 2017 |
| Mail ballot packages available for voters | September 26, 2017 |
| Advance voting days at City Hall | October 4 and 10, 2017, 8:00am – 8:00pm |
| General voting day | October 14, 2017, 8:00am – 8:00pm |
Who can vote?
To vote in the City of Vancouver by-election, you must:
Be 18 years of age or older on general voting day (October 14, 2017)
Be a Canadian citizen
Have lived in BC for at least 6 months immediately before voting day
Have lived in Vancouver for at least 30 days immediately before voting day (or have owned real property registered in your name in Vancouver for at least 30 days immediately before voting day)
Not be disqualified by law from voting
You must meet all the above qualifications to be eligible to vote.
Permanent residents who have not yet become Canadian citizens are not permitted to vote.
About the by-election
Complete information regarding registering to vote, where to vote, and advance voting for this by-election will be available shortly.
Public notices will be issued throughout August and September with information for candidates and voters.