City Council has approved the Transportation 2040 Plan
October 31 2012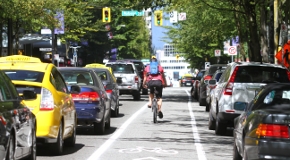 Vancouver City Council has approved Transportation 2040, a transportation vision and framework for the next 30 years, and guide to transportation decision making over the next 15 years.
The plan contains concepts and ideas that will help address key transportation issues and ensure the transportation network continues to support our economic prosperity, the health of our community and its people, and our commitment to environmental improvement.
Key directions of the plan include:
Walking
Walking in Vancouver is a healthy, enjoyable way to move around the city. The City will undertake projects under the Transportation Plan to increase the number of people who feel comfortable walking.
The City will also strengthen the pedestrian network through safer and more accessible streets, pedestrian-only areas as well as additional sidewalks, lighting and signage.
Transit
Public transit is a critical transportation option for many thousands of citizens of all ages who use it on a regular basis. Transit moves large numbers of people to jobs, schools, appointments, social events and their homes while helping to remove cars from our roads.
As the importance of and need for public transit options grow, the City will work with TransLink and other partners to increase ridership through improved capacity, frequency, reliability and efficiency of service as well as new transit options.
Cycling
Cycling is a healthy, inexpensive and enjoyable way for many people to travel. The City will work to increase ridership by making cycling a safe, convenient and fun option for people of all ages and abilities.
We will improve the connections between designated cycling routes, add new routes that take advantage of unused and available space, enhance education and enforcement to build rider safety and add parking and storage options to integrate cycling into other forms of transportation.
Motor Vehicles
The City is committed to strategies that ease traffic congestion for all road users, make it easier to drive less and reduce the need to own a car.
The Transportation Plan encourages cycling, walking and use of public transit, car-sharing and lower-emission vehicles.
The City will also provide traffic-calming measures in neighbourhoods and implement safety improvements at intersections that have high-crash statistics.
Goods movement
The efficient movement of goods locally and regionally is critical to the economic well-being and quality of life in our City.
The Transportation Plan outlines strategies to protect and improve rail corridors, maintain a safe and efficient network of truck routes, encourage the use of low-emission transport vehicles.  It places greater emphasis on the local production of foods and goods to reduce long-haul transit.
Emergency services
The quick and efficient movement of emergency vehicles is critical to the safety of our City and the health and lives of citizens. The City will factor emergency vehicle response times and needs into street design and traffic management strategies to ensure emergency vehicles continue to respond quickly.