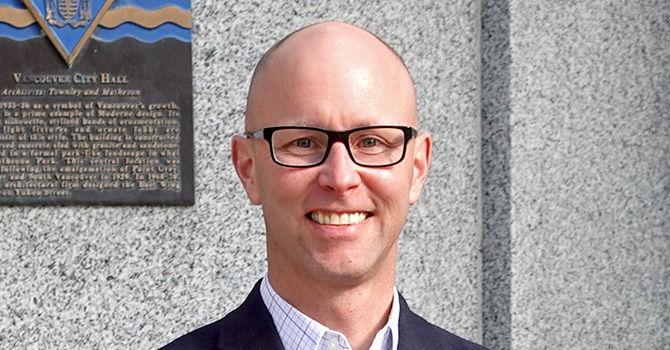 City Council selects Paul Mochrie as Vancouver's new City Manager
On behalf of Vancouver City Council, I'm thrilled to have Paul Mochrie take on the critical role of Vancouver's City Manager at precisely the moment when our city needs someone of his professionalism, talent, and dedication to the community.
Mayor Kennedy Stewart
April 20 2021 –
City Council has selected Paul Mochrie as the new City Manager for Vancouver.
Mochrie has been serving as Acting City Manager since the departure of former City Manager Sadhu Johnston in early January. Prior to taking on this acting role Mochrie was Deputy City Manager, a position he was appointed to in October 2015. In this role, he provided oversight for a broad portfolio of municipal services, including: Fire and Rescue Services; Emergency Management; Development, Buildings and Licensing; Arts, Culture and Community Services; Technology Services; and Human Resources. He also represents the City as a director of the Pacific National Exhibition and E-Comm 911.
Mochrie demonstrates ongoing commitment to equity and Reconciliation, and played a key role in the establishment of the City's Equity Office within the Office of the City Manager with a mandate to decolonize and remove barriers to inclusion across the organization.
Mochrie has broad experience in the public sector, including appointments with the Government of British Columbia, regional health authorities and employers' associations. Immediately prior to joining the City, he worked with the BC Ministry of Health and led the business relationships between the PharmaCare program, pharmaceutical companies and retail pharmacies. He initially joined the City in May 2011 as the General Manager, Human Resource Services.
Mochrie holds a Bachelor of Commerce from the University of British Columbia and an MBA from Queen's University.
As the administrative head of the City, the City Manager oversees a $1.6 billion operating budget and a city-wide team of approximately 7,700 employees.
The appointment concludes an extensive six-month international candidate search and recruitment process conducted by Pinton Forrest Madden.
Quotes
Mayor Kennedy Stewart
"On behalf of Vancouver City Council, I'm thrilled to have Paul Mochrie take on the critical role of Vancouver's City Manager at precisely the moment when our city needs someone of his professionalism, talent, and dedication to the community," said Mayor Kennedy Stewart. "Over the past two years I've had the pleasure of working closely with Paul and have seen how much respect he has amongst our staff team. Paul's attention to detail and relentless focus on making our city work for everyone will be crucial as we build back from the COVID-19 pandemic stronger than before."
Councillor Rebecca Bligh
"Paul Mochrie is a dedicated civil servant with proven capacity and skills to lead our city through one of the most challenging times, and beyond. I am thrilled to have Paul as our new City Manager."
Councillor Christine Boyle
"Paul Mochrie is a thoughtful and capable leader, with a demonstrated commitment to equity and Reconciliation. In his past roles as Deputy City Manager and Interim City Manager, Paul has worked tirelessly to advance action on critical local issues, and I am confident he will continue to serve residents and staff well in this new role."
Councillor Adriane Carr
"Paul Mochrie has everything I'm looking for in our new City Manager: intelligence, a people person, and the deep understanding of our city that's needed for us to chart the best possible COVID recovery and future."
Councillor Melissa DeGenova
"Over the past decade, as Director of Human Resources, Deputy City Manager and Acting City Manager, Paul Mochrie has demonstrated his unwavering commitment to the City of Vancouver—we are fortunate to have him as our City Manager and now more than ever, our staff and entire city need the experienced, balanced and professional management that Paul will deliver."
Councillor Lisa Dominato
"Paul is the consummate public servant who shows a high degree of authenticity and ethical leadership, and I am confident he will bring positive change to the organization."
Councillor Pete Fry
"Grateful for Paul Mochrie in this role; he has been a great asset to the organization, with a breadth of expertise, professional rigour, and managerial acumen ̶ he is the best person for this job at a most critical time."
Councillor Colleen Hardwick
"Paul will have a steady hand to see the City of Vancouver through the COVID-19 pandemic."
Councillor Sarah Kirby-Yung
"Paul Mochrie is respected by staff and community alike. He brings strong, organizational knowledge to the City during a time when strong leadership is needed to guide us through recovery, and I know from working with him when I was chairing the Park Board, that he'll step up and tackle organizational challenges to ensure we deliver strong and responsive services to our residents and businesses."
Councillor Jean Swanson
"I'm pleased we have a new City Manager who has already made good changes, knows the city well, and is kind."
Councillor Michael Wiebe
"I'm happy that Paul is willing to lead Vancouver as City Manager in a just, green COVID recovery with a strong connection to the broader community and a clear understanding of the issues that need transformational change."