City Hall's brass doors sealed for the future
December 4 2015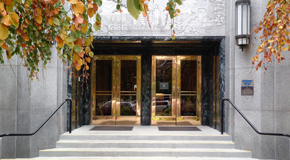 The stately, brass doors welcoming everyone to City Hall are now a shining example of sustainability.
The 80-year-old, original doors just received a modern polymer coating that bonds and seals the brass, substantially reducing the amount of upkeep necessary to retain a freshly polished look. That means less staff time and cleaner are needed and there are fewer empty cleaner cans and rags going into the landfill.
The treatment and reinstallation was completed earlier this week.
Efficient and sustainable
The project was an initiative of Chris Santos, building services supervisor, who saw a way to improve efficiency as well as find environmental benefits for City Hall.
To keep the doors gleaming for guests, it used to require staff time, almost $1,800 for 78 cans of brass cleaner and 20 lbs of rags. Now, all that's needed is a cloth and water to touch up the doors. No more chemicals.
New sealant to last more than 15 years
Cost for the project, which began on October 22 is $15,000. The new sealant on the doors is expected to last more than 15 years with proper maintenance.
While the sealant may rub off sooner in well-used places, such as the handles and kick plates, those areas can be touched up without refinishing the whole door. The same sealant was also used on the City of Vancouver sign at 12th and Cambie.