City hosts a week of Reconciliation events
September 17 2013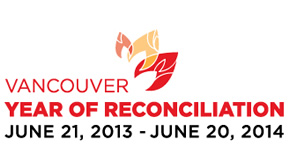 The City of Vancouver is encouraging everyone to participate in Reconciliation Week events to acknowledge the historical impacts of residential schools on Aboriginal peoples and create a legacy for meaningful change in society.
Reconciliation Week events
Events get underway with a Survivor Walk and Procession on September 18, as part of a four-day event at the Pacific National Exhibition. Mayor Gregor Robertson will be inducted as an Honorary Witness and sit on the Commissioner Sharing Panel before proclaiming this the Year of Reconciliation. Workshops, a free concert, discussion groups and other activities are open to everyone willing to bear witness to the legacy of residential schools and to celebrate Aboriginal culture. The Vancouver Giants will mark their home opener on September 20 with a Tribute to First Nations hockey. Survivors of residential schools are eligible for discounted tickets.
Reconciliation Week wraps up with A Walk for Reconciliation on Sunday, September 22, sponsored by Reconciliation Canada. Participants will assemble at 8:30 a.m. at Queen Elizabeth Plaza (West Georgia and Hamilton). Following the opening ceremonies, the walk gets underway at 10:00 a.m. and proceeds to Concord Pacific Place (88 Pacific Boulevard) with closing remarks to follow just after 11:00 a.m. There will be live entertainment, storytelling, song and dance, before and after the walk, and along the route.
Vancouver is the first city in Canada to proclaim this a Year of Reconciliation and will be coordinating a series of gatherings, intercultural dialogue and storytelling workshops, public education, and cultural and arts programs in an effort to mend the past and build shared understanding.