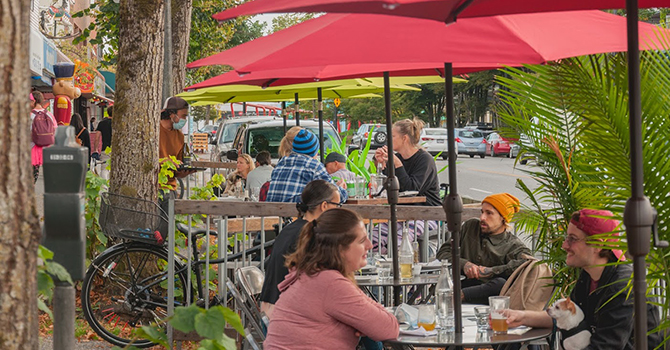 City launches online application to extend temporary patios
October 23 2020 –
Today, we launched an online application for businesses to extend their temporary patios through the winter.
Any business that would like to extend their existing patio location on City (public) property can do so for free. Permit applications for these patios to operate in the summer will open in spring 2021.
Extend existing patio
Businesses with patios on private property will automatically have their temporary permits extended until October 31, 2021.
Launched this past June as part of our commitment to support businesses recovery efforts, City staff have approved more than 400 temporary patios on private and public property across Vancouver.
Increasing safety
The winter season brings darker days with heavy rain, wind and sometimes even snow. Businesses are responsible for operating patios safely for staff, patrons, public, vehicles, and City operations.
Businesses operating temporary patios in the winter must ensure specific precautionary measures are in place to reduce the spread of COVID-19. City staff will be reviewing each application with health and public safety being top of mind.
While application fees for temporary patio permits will continue to be waived, businesses will be required to obtain and pay for any gas, electrical, and awning permits required to winterize a temporary outdoor patio.
Given the increased safety risk associated with covering and partially enclosing temporary outdoor spaces, fines, and enforcement will be used when businesses have not obtained proper permits or fail to follow the terms and guidelines as set out by the temporary patio permit program.
Winterizing requirements
Any heating, lighting, or shelter that a business might use to operate their patio through the winter months must adhere to regulations for their type of patio.
Enclosures must maintain proper air ventilation
Pending the outcome of a Public Hearing and Council approval on October 27, 2020, tents may be permitted on temporary patios located on private property
Permits for permanent awnings, plumbed or wired heating, and lighting are required and can be applied for online by the awning installer or gas/electrical contractor
All gutters and catch basins in a temporary patio must be kept clean and clear of debris
Review full details and requirements
Restart and recovery
We continue to ask the public to:
Stay strong – keep two metres apart, do not attend large gatherings, and stay home if you are feeling unwell
Stay local – support local businesses and your neighbourhood
Review detailed information about the status of City services and facilities