City moves forward with expanded housing strategy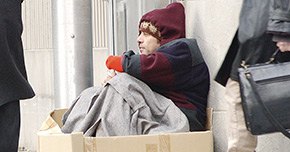 September 23 2014 –
City of Vancouver staff met with Oppenheimer Park representatives yesterday to present an updated housing strategy to ensure that people who are homeless at Oppenheimer Park have access to housing.
The weather is deteriorating and a plan has been put in place to provide the immediate availability of 40 new shelter spaces at 900 Pacific Street and 30 shelter spaces at the Union Gospel Mission. 
To date, the City staff have placed 40 homeless campers from Oppenheimer Park into existing housing options. The additional shelter beds at 900 Pacific Street and Union Gospel Mission will allow more secure shelter while BC Housing works to place those who continue to be homeless on the park site.
Temporary Shelter Strategy provides support
The City's Temporary Shelter Strategy is into its seventh consecutive year. These shelters have proven to be highly effective in stabilizing individuals and connecting them with supports before they move directly into housing.
Over the past six years, approximately 500 people who were homeless have transitioned through the emergency shelters into permanent housing.
City staff available to help people relocate
For those in Oppenheimer Park who wish to move to the shelter spaces now available, Vancouver Police Department, Vancouver Fire and Rescue Services, Park Board, Engineering and City Housing outreach staff will be at park to assist with relocation of people and their belongings.
City Housing outreach staff will also be at the park to speak to people and answer their questions about belongings and transport to the new facility. 
Upcoming new housing options
These new shelter spaces will be incorporated into the City's current housing plan.
Three new housing options will become available over the next 2 – 3 months. The opening of the two supportive housing sites at Broadway and Fraser and 111 Princess in November, and Taylor Manor in December will provide a further 249 units to accommodate street homeless individuals.
The City acknowledges that there will still be a gap in the amount of housing needed, and anticipates that the Province will want to actively participate in addressing this gap.
Key concerns discussed
Throughout the past weeks, senior City officials have met with camp leadership on a regular basis to discuss their key concerns in the hopes of finding a solution.
At the same time, the City has been working with the Vancouver Police Department and Vancouver Fire and Rescue Services to closely monitor the park and the campers on a 24 hour basis for any health and safety issues.
Camp leadership has consistently outlined their main issues as being linked to homelessness, conditions of single-room-occupancy hotels, and an Aboriginal Healing Centre.
Related initiatives
The City has been working on all of these issues as part of wider initiatives, such as the Downtown Eastside Plan actions, the Mayor's Task Force on Mental Health, the Vancouver Affordable Housing Agency, and the Housing and Homelessness Strategy.