City moves one step closer to a low carbon future
June 2 2016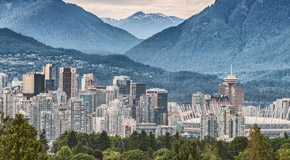 Doug Smith, our director of Sustainability, signed the long-awaited Pacific North America Climate Leadership Agreement at the Clean Energy Ministerial (CEM7) this afternoon in San Francisco.
Pacific Coast governments partner to reduce greenhouse gas emissions and promote clean energy economy
Following through on pledges and declarations forged during the COP21 global climate change conference in Paris last December, west coast jurisdictions are joining forces on a regional level demonstrating their commitment and leadership in reducing greenhouse gas emissions.
Leaders from the Pacific Coast Collaborative (PCC) – a partnership between the premier of British Columbia and governors of California, Oregon, and Washington – joined the mayors and representatives of six cities to sign the agreement:
Los Angeles
Portland
San Francisco
Seattle
Oakland
Vancouver
The pact outlines areas of cooperation to reduce greenhouse gas emissions and promote a vibrant clean energy economy, with an emphasis on:
Energy systems
Buildings
Waste management
Transportation
Learn more about the agreement

Sharing information and expertise
Vancouver is looking forward to leveraging the Pacific Coast Collaborative to build on existing relationships with west coast cities and the Province of British Columbia and to also begin new relationships with the states of Washington, Oregon, and California.
With goals to become the greenest city in the world by 2020 and be powered by 100% renewable energy before 2050, we have already started sharing information about our district energy plans and greener buildings codes, and will continue to foster the exchange of expertise with our partners.
Growth in clean energy jobs
As climate change requires decisive action at the subnational level to realize the promise of the Paris accord, cities, states, and provinces have a critical role to play in driving the transition to a clean economy by implementing policies on a local level and by forging partnerships like the Pacific Coast Collaborative.
The numbers don't lie: between 2010 and 2014, clean economy jobs within the Pacific Coast region grew at a rate of 19.3%, more than twice as fast as jobs overall, proving that strong climate action and economic success go hand-in-hand. As of 2014, the region now includes 580,019 clean economy jobs.
Pacific North America is a region bound together by a common geography, shared infrastructure, and a regional economy with a population of 53 million people and a combined GDP of U.S. $2.8 trillion, which makes it the world's fifth largest.